Russia score 17 unanswered goals to beat US in Bandy Worlds opener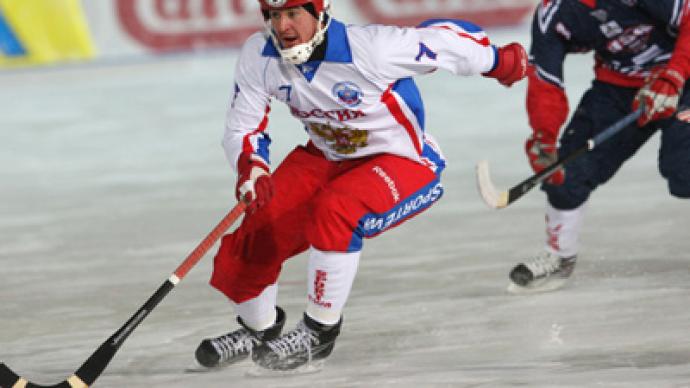 Russia's national bandy team has gotten off to a convincing start at the World Championships in Kazan, overpowering their US rivals by a 17-0 scoreline.
Sergey Firsov's men had an overwhelming advantage throughout the first period, but a heroic display from American keeper Erik Kraska saw them opening the score only in the 17th minute.Sergey Lomanov found the net following the corner and after that the goals started flying, with Ivan Maksimov, Alexey Dorovskikh, Igor Larionov and captain Mikhail Sveshnikov all adding their names to the scoresheet before the break. The Americans swapped their keeper after the restart, but Tommy Stone suffered the same fate as his predecessor, conceding even more goals from Lomanov, who completed his hat trick on the night, and his teammates Sergey Shaburov and Pavel Ryazantsev. Russia plays Finland in their second game of the preliminary stages on Monday. The US made its debut at the Bandy World Championship back in 1985, but has yet to win a single medal at the annual event.   They faced Russia a year ago and produced a better performance, but nonetheless went down 19-5.
You can share this story on social media: