Russia get hands on basketball bronze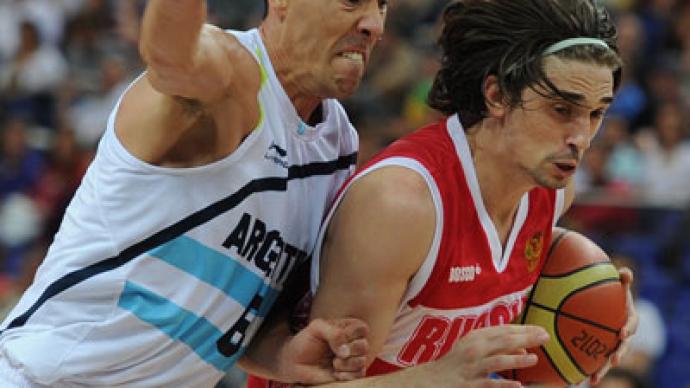 Russia's men's basketballers have claimed their first Olympic medal in the country's modern history after beating Argentina 81-77 in the bronze match at the London Games.
The fate of the super-tight encounter, in which the opponents never allowed each other create any serious lead, was decided in the last minute. A brave three-pointer from Aleksey Shved put Russia two points up with 30 seconds remaining till the buzzer. Argentina's Andres Nocioni replied with his own effort from behind the three-point line, but the hoop spat the ball back out. The Russians collected the rebound and – after some hustle in the middle of the court – Vitaly Fridzon settled the final score, 81-77.Shved was the top scorer for David Blatt's men, with the Minnesota Timberwolves rookie finishing the game with 25 points and seven assists."It was a hard match because everybody was tired after the long tournament," Shved told Sportbox.ru. "But now, of course, the mood is very different than after the semifinal match. I want to thank everyone who supported us – both in the stands and in front of their TVs."The 23-year-old also said he was sure he'd score with the long range shot, which sealed the deal for Russia. "Somebody had to take the responsibility and I was confident of myself," the 23-year-old added. "However, I had the same feeling in a previous episode – and I missed. But in this crucial moment, I didn't let the team down. So it's a job well done."His partner, Andrey Kirilenko, was once again useful for Russia, collecting 20 points and eight rebounds.Meanwhile, the 25 points from Argentine veteran Manu Ginobili wasn't enough for his team to prevail. It is first Olympic medal in the Russian basketball team snatched since the fall of the Soviet Union in 1991. The USSR won two Olympic golds in the sport, with the last one coming in Seoul 1988. Meanwhile, Team USA have claimed the gold medals after topping Spain 107-100 in the hard-fought Olympic finals.