Russia celebrates 1,000 day before Sochi 2014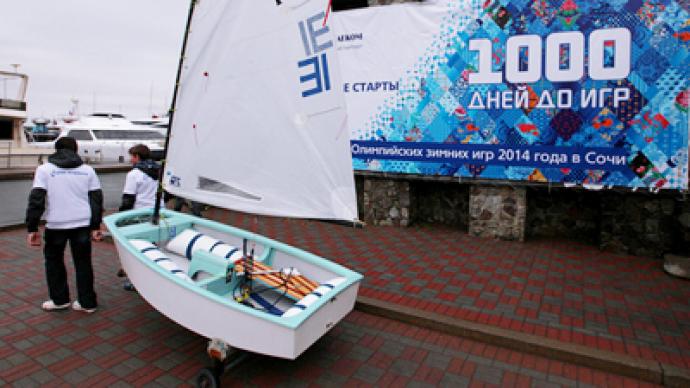 One thousand days are left before the 2014 Winter Olympics kick off in Sochi, with various events being held across the country to mark the big countdown.
There are still three years until the Games open in the Russian resort on the Black Sea, but the organizers already have some records to report. The Olympic construction is going ahead of schedule, with all the venues to be fully tested in 2013 – a year before the start of the Games, which has never happened before. Another record is the sum of US$6.5 billion to be spent on the preparations for the Olympics, with 60 per cent of the money coming from private investors. There is also the special 1,000 Olympic Lessons program, according to which Sochi 2014 ambassadors visit schools all around Russia to speak about the Olympic movement and encourage students to become volunteers. "I've taken lots of emotion with me from this lesson. It was absolutely breathtaking. And now I really want to be a volunteer for the Olympic Games in Sochi in 2014," Sasha Komkov, a tenth grader at the Pushkin Lyceum, said after the lesson.  Olympic champ in speed skating in 2006 and also State Duma deputy, Svetlana Zhurova, spoke to RT about Russian medal hopes for the Games. "For Russia it's very important how many medals we'll get at the Olympic Games. The opinion is that if our hockey players don't win then it's not a good Olympics. For sure, we're waiting for gold medals in figure skating. I am happy the World Championship was held in Russia in Moscow, several weeks ago. It was good. I say 'good' because of a nice new generation of figure skaters, who have good prospects in the future," she said.    "I hope my sport will also bring medals. There are 12 medals up for grabs and I hope we'll get some of them. There also have to be medals in biathlon and cross-country skiing. Those are the traditional sports for Russia. For the first time in Russian history we are organizing such a huge competition in those sports," Zhurova added.
You can share this story on social media: