Perfect Plyushchenko claims seventh European title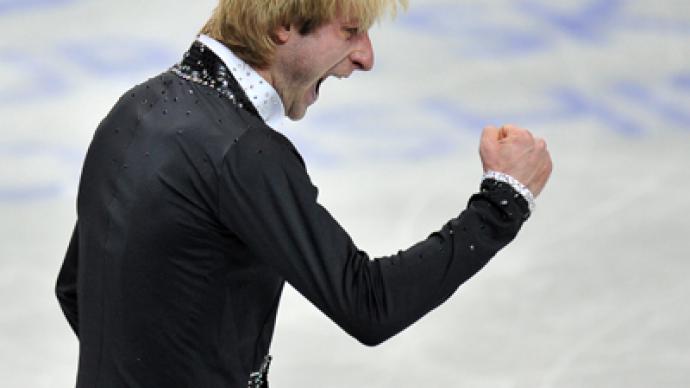 Russian figure skater Evgeny Plyushchenko has become European champion for the seventh time, winning his first international tournament since his return to the sport.
Plyushchenko, who avoided quadruple jumps in qualifying and in the short program due to knee problems, was fit enough to show off his full repertoire in the free program.
The audience in Sheffield, England, greeted the 29-year-old's performance with a standing ovation.
The judges were also impressed and awarded Plushenko 261.23 points, which is an all-time record for the European Championships.
"I want to thank everybody for having faith in me," Plyushchenko told Sports.ru. "Today I did a good job. I skated very cleanly. And, of course, I'm proud of myself. This is my seventh European title. I think this is a kind of a historic achievement. Thanks to the judges. Seriously, I thank them very much. What can I say? I am really very happy."
Plyushchenko also revealed that his injury problems aren't over yet and that his knee will undergo surgery in the coming weeks in Munich.
"When I'm completely healthy, I'll be able to skate even better," he added. "The following year I'm going to perform throughout the season, taking part at the stages of the Grand Prix, the European and World Championships."Plyushchenko was returning to competitive sport after disqualification at the end of 2011. He now has gold at home at Sochi 2014 as his primary target.    
Another of coach Aleksey Mishin charges, Artur Gachinsky, added to the joy of Russian figure skating fans by grabbing the silver medal.
The 18-year-old scored 246.27 points to make his first career appearence on the European podium.  
Defending champion Florent Amodio settled for bronze, with Gachinsky beating the Frenchman by more than 12 points.
Meanwhile, Russia missed out on the medals in the women's competition as Italy's Carolina Kostner secured her fourth European gold with a score of 183.55 points.
Kiira Korpi of Finland was second with 166.94 points, while Elene Gedevanishvili snatched bronze for Georgia, a point behind.
The best Russian was Polina Korobeinikova, the 15-year-old producing a superb display in the free skate to climb from 12th to 4th position in the overall standings (164.13 points).
Ksenia Makarova, who was third after the short program, only managed sixth place in the end.
Team Russia still produced a dominant performance at the current European Championships, with seven medals (two gold, three silver and two bronze) after four events.
Tatiana Volosozhar and Maksim Trankov led a Russian clean sweep in the pairs on Friday, with the ice dancers adding a silver and bronze a day later.
You can share this story on social media: