Ostapchuk unknowingly doped by 'Idiot' coach
Published time: 12 Sep, 2012 08:39
Edited time: 12 Sep, 2012 13:10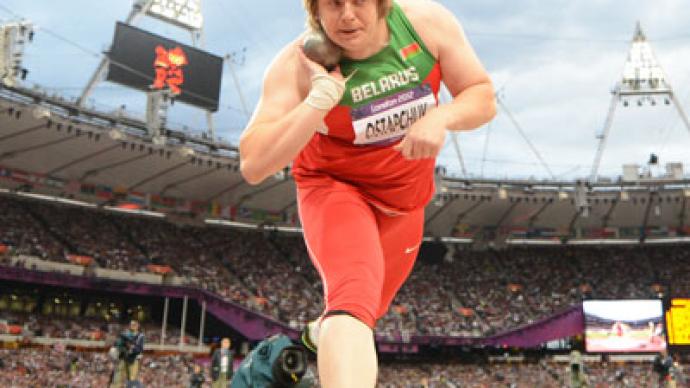 Belarusian shot putter Nadzeya Ostapchuk, who was deprived of her gold medal from the London Olympics, was unaware her coach had been doping her food.
­"It was a complex investigation, which we completed on September 7," Aleksandr Vanhadlo, the head of the Belarusian Anti-Doping Agency, told ITAR-TASS. "It was established that the forbidden substance was given to the athlete without her knowledge. Simply put, it was determined that on July 30 after the international anti-doping test the athlete's coach Aleksandr Efimov added dope to Ostapchuk's food."
"And Efimov admitted this during the investigation," he added.
According to the official, the coach feared that Ostapchuk won't be able to produce a strong display at the Olympics otherwise.
In an interview with Belarus' Euroradio, Efimov confirmed he dosed the athlete's coffee hoping it would be out of her system by the time of the Games.
The coach added that he's ashamed of what he's done and now plans to change his surname to "Idiot".
As a result of the investigation, the Belarusian sporting officials have decided to hand out a four-year ban to Efimov, with his charge prevented from competing for a year.
Ostapchuk won the shot put gold at the London Olympics, but was ordered to return the medal the day after the Games.
The International Olympic Committee says both tests on the 31-year-old passed showed traces of the metenolone anabolic steroid in her blood.
­
Nadzeya Ostapchuk's coach, Aleksandr Efimov.(Image from ctv.by)