London Paralympics most successful in Russia's history
Published time: 9 Sep, 2012 18:14
Edited time: 9 Sep, 2012 22:18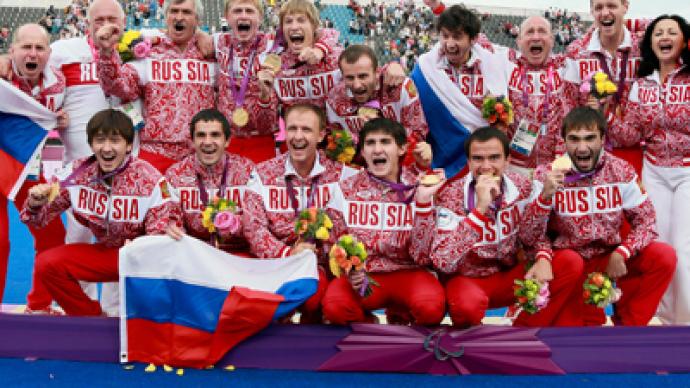 Russian paralympians have concluded the London Games in a shining fashion beating Ukraine for gold in the men's football 7-a-side. The win increased Russia's haul to 36 golds and propelled the country to runner-up in the medal table behind China.
The result in London is an unprecedented achievement for the Russian Paralympic movement after the team took home 18 golden medals in Beijing four years ago, 16 at Athens 2004, 15 at Sydney 2000 and 9 at Atlanta 1996.
The country's paralympians grabbed a total of 102 medals in the last two weeks, far beating their previous medal tally record.
The Chinese were long out of sight at the top, however, with enormous 231 medals including 95 gold, while hosts Britain came a close third with 34 gold.
"To continue at the level we have achieved in London, we must take a serious step forward," said Russian Paralympic Committee president Vladimir Lukin, who is also the country's Human Rights Commissioner.
"We all need to have a think about how to not only maintain this position but also to progress further," Lukin stressed.
The top Russian performer was swimmer Oksana Savchenko, who took home five gold medals, claiming a world record in the 50 meters freestyle en route.
As it had been expected the Russians were strong in athletics, where 19 gold were won, and the pool, where they claimed 13 wins.
Oksana Savchenko (RIA Novosti / Iliya Pitalev)