Isinbayeva misses out on London gold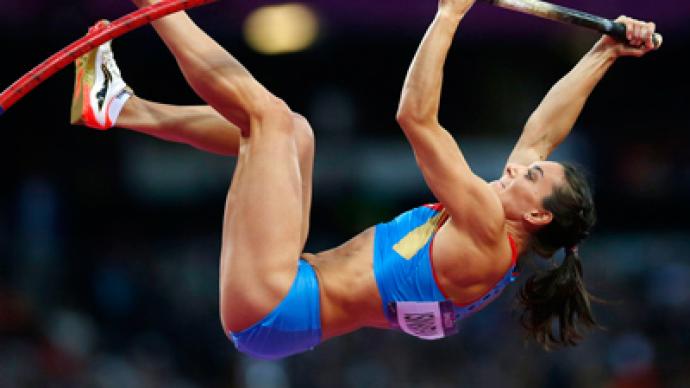 Pole vault queen Elena Isinbayeva has failed to defend her gold from Beijing 2008, settling for a bronze medal at the London Games.
The conditions were far from perfect for the pole vault final, with rain and strong, swirling winds. In the difficult conditions, Isinbayeva surprised the crowd by messing up her first attempt at the 4.55-meter mark. The 30-year-old than managed 4.70 meters, but that was all she could achieve on the night.Both attempts at 4.75 and 4.80 meters were fruitless, with the Russian leaving Jennifer Suhr of the US and Cuba's Yarisley Silva to battle for gold. The two-time Olympic champion didn't look too upset by the unexpectedly modest display as she smiled and waved to her supportive fans."Of course, I blew my chance," Isinbayeva told Sportbox.ru. "I shouldn't have continued jumping at 4.75, but switched to 4.80 instead. But in this turmoil and with this weather I only moved my third attempt. Frankly, I'm just tired. It was hard. And psychologically, I was not on such a rise as my rivals. Yes, I wanted to win too. But I kept thinking: 'Damn, how tired I am.' I was sitting under a blanket and tried to get in the right mood: 'Lena, you can do it, you can.' And the other half of the brain was saying: 'I'm so tired. Let's go home.' Psychologically, it was hard. There was so much pressure.""It's not the strongest one who showed better results, but the one who got lucky with the weather. A very strong wind was blowing in our faces. Sometimes it died down and someone managed to take advantage of it," she added.Earlier, Isinbayeva announced plans to quit the sport after next year's World Championships, but now she says she may reconsider and compete in Rio 2016."For me, this bronze equals gold, with so much having happened to me in the past," she stressed. "I want to thank everybody who supported me. It's their medal too. Don't be upset. I thought to finish my career after the Olympics, but now I'm thinking about staying to snatch gold in Brazil." Suhr and Silva stopped at 7.75 meters, but the gold went to the American, who required fewer attempts to achieve it.The new Olympic champion's result is 31 centimeters below the world record (5.06 meters), which Isinbayeva set back in 2009.