Bronze day for Russian gymnasts
Published time: 5 Aug, 2012 16:46
Edited time: 5 Aug, 2012 20:46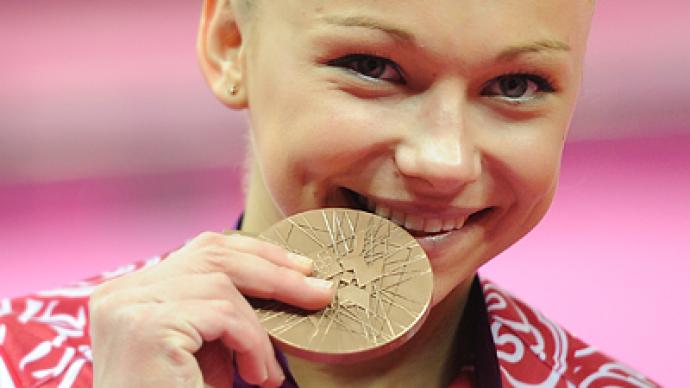 Denis Ablyazin and Maria Paseka have brought Russia two more Olympic bronze medals after the opening day of the individual finals in artistic gymnastics.
­Ablyazin produced the third-place display in the men's floor exercise at London's North Greenwich Arena.  
He scored 15,000 points, on par with Kohei Uchimura of Japan, but a lower execution point pushed the Russian to bronze.  
Meanwhile, Zou Kai of China defended his floor exercise gold from the Beijing 2008 games, with a score of 15,933.
The Chinese became only the second athlete in history to achieve this, after Russian gymnast Nikolay Andrianov, who topped the Olympic podium in 1972 and 1976.
Another bronze medal came to Russia in the women's vault, courtesy of Maria Paseka.
The 17-year-old also would have had a good chance for silver, if not for a controversial referee decision.
McKayla Maroney of the US was awarded good marks, despite completely failing the landing on her second vault attempt.
The American scored 15,083 points to better Paseka's result by just 33/100 of a point, claiming the second place on the podium.

"I can't describe my feeling," the Russian told ITAR-TASS news agency. "I still have adrenaline in my blood. It's only third place, a bronze. But this is an Olympic medal. So I'm still happy."
Sandra Izbasa of Romania triumphed in the event, grabbing her second career Olympic gold medal.