Daredevil surfer makes Guinness book after riding record wave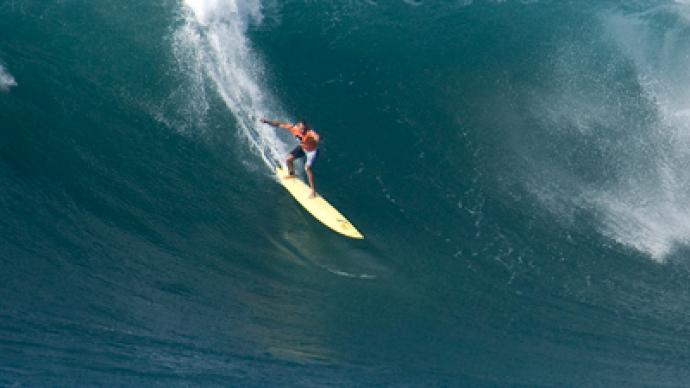 Big-wave surfer Garrett McNamara has made it to the Guinness book of records after conquering an enormous 23.7-meter wave.
The Hawaiian caught the monstrous wave off the coast of Portugal's Praia do Norte last November. Dragged out on a tow rope by a jetski, he was dwarfed by the huge wall of water. "I was really beat-up that morning," McNamara told AP. "I did not want to get out of bed."But his friends convinced him to change his mind as they got into the ocean, and he helped others catch some waves. "Everything came together," McNamara said. "Everything felt right." The 44-year old didn't care at first about whether the wave was a record, but was urged by the townspeople in Nazare, Portugal, to get the confirmation. He sent the footage and pictures to surfing legend and Billabong judge Sean Collins, who died last December. It took the judges a few months before they made a decision. McNamara was awarded a prize, $15,000, at the Billabong XXL Global Big Wave Awards in California last week after it was officially confirmed the wave was the biggest ever ridden. The arbiters of big-wave surfing compared footage and high-resolution still images from several angles to calculate an accurate estimate, event director Bill Sharp told AP. They used McNamara's height in a crouch and the length of his shin bone to help compare it to the wave's top and bottom, Sharp clarified. He compared McNamara's achievement with other rare athletic feats "but add to that the fact that the stadium could collapse on you at any second.'' McNamara, who began surfing at age 11 and went pro at 17, hopes his record will inspire others to follow their passions. "The world would be a much better place if everyone was doing what they wanted to do," he said.
You can share this story on social media: