Bolt still world's fastest man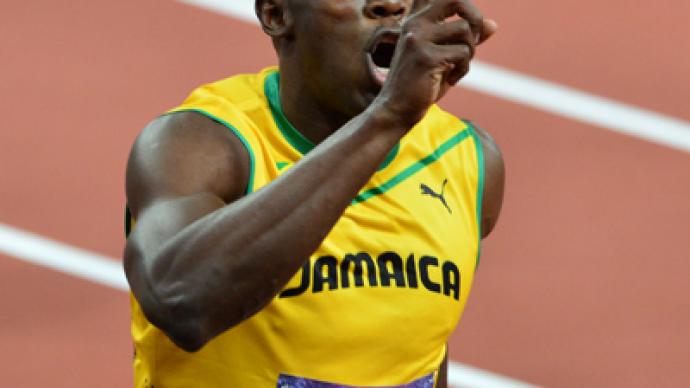 Jamaican sprinter Usain Bolt has claimed his fifth Olympic gold after winning the men's 100m final at the London Games.
­Bolt crossed the finish line in 9.63 seconds, improving on his own Olympic record from Beijing 2008. The 25-year-old's couldn't beat the world record of 9.58, which he set back at the 2009 World Championships. But the Lightning Bolt will have a chance to challenge two of his other top marks, as he's to compete in the 200m and 4x100 relay in London. "Some of you guys doubted me. I just had to show the world I was the greatest," Bolt is cited as saying by Reuters. "It means I'm one step closer to being a legend. I have the 200 (meters) to go."The silver also went to Jamaica, with Yohan Blake showing a result of 9.75, while Justin Gatlin snatched bronze for Team USA.  Gatlin's compatriot, Tyson Gay, stopped one step away from the podium, with the time of 9.80 seconds. Meanwhile, another Jamaican star, Asafa Powell, produced the most disappointing display of the final, covering 100 meters in 11.99 seconds.
Jamaica's Usain Bolt (L) crosses the line to win the men's 100m final at the athletics event during the London 2012 Olympic Games on August 5, 2012 in London (AFP Photo / Damien Meyer)
Jamaica's Usain Bolt (R) wins the men's 100m final at the athletics event during the London 2012 Olympic Games on August 5, 2012 in London (AFP Photo / Olivier Morin)
Jamaica's Usain Bolt (R) runs to win the men's 100m final at the athletics event during the London 2012 Olympic Games on August 5, 2012 in London (AFP Photo / Emmanuel Dunand)