Italy push Russia into second place at biathlon World Cup relay in Oberhof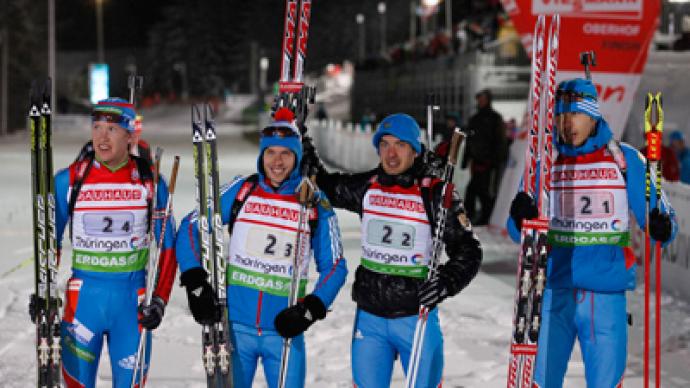 Perfect shooting in windy, snowy conditions helped Italian team anchor Lukas Hofer overtake Russia's Aleksey Volkov in a biathlon World Cup relay and win the race.
In the early stages of the race the Russians appeared the stronger side when it came to coping with gusty conditions in Oberhof. The team's leader, Evgeny Ustyugov, was leading more than two minutes ahead of his opponents going into the second shooting, but missed five of his eight attempts, meaning he had to run two penalty laps and let the Italians approach within less than a minute.Volkov began the fourth leg around 40 seconds ahead of Hofer. But the Russian had to use two spare rounds in the prone shooting, which allowed Hofer to cut the deficit. The Italian went on to shoot cleanly in the standing and left the young Russian trailing 6 seconds on the finish. Sweden took third place, like Italy, without a penalty round. The other favourites, Germany and Norway, had to settle for fourth and sixth places respectively.
You can share this story on social media: