Swimming sex-symbol Beard confesses in suicide attempt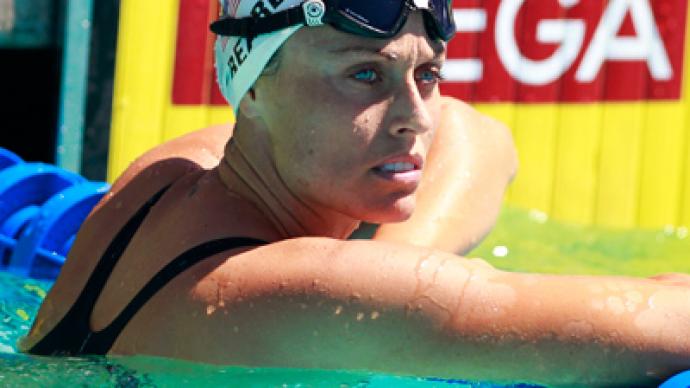 Seven-time Olympic medallist and swimming sex-symbol, Amanda Beard, has published her autobiography, in which she honestly speaks out about her depression, drug problems and a suicide attempt.
In her book called "In the water they can't see you cry", the American athlete reveals that winning her first Olympic gold at the age of 14 at the Atlanta Games and the divorce of her parents became a tough test for her, which she nearly failed. "I think a lot of athletes have probably had to deal with anorexia, bulimia, depression, all of these different things," Beard told TeamUSA.org. "It's just that we feel we need to be so proud and so strong that it's hard for us to break down that wall and share real things that are going on. You're taking all the normal pressures that you have being a teenager or a high school student and you're magnifying them because you're an athlete, so you have to have a certain body type and you're gonna be in front of people and performing and trying to live up to expectations."
In 2007 the swimmer's mental condition was so bad that she even tried to commit suicide. Then-boyfriend Sacha Brown found Beard in a pool of blood in the bathroom after she pushed a razor too far while cutting her arm.
"My husband was one of the people that woke me up to the reality of you're not living a healthy lifestyle here and you cannot continue down this road because this is going to end up very bad for yourself," she said. "And he stood by my side and was very loving and very supportive and helped me figure out what was the best for me and I found that therapy and really working on myself and concentrating on who I am was the right step for me."
It was difficult for her to relive the darkest moments of her life, but Beard remained dedicated to her decision to write a candid story till the last page.
"I felt somewhat empowered that I've been through all of these crazy, hectic things but I am where I am today in such a better spot," the author stressed. "The rule from the beginning that I had for myself is that I didn't want to put out a book that wasn't honest and real, no matter how personal or deep or emotional it was for me."
Amanda Beard is now 30 years old, and says all her problems have been left in the past.  She has a husband, a son and no plans to abandon her swimming career.
The results this season prove Beard has a good chance of making it into Team USA for the London 2012 Games in the 100 and 200-metre breaststroke events.   
The Olympic Trials are in less than three months, with the top two booking tickets to the British capital.
"I'm trying to go into it feeling like I can get first place in anything I do," she said. "All I can do is try to stay as positive as possible leading up to Olympic Trials and try to stay healthy and fit and prepare myself as best as possible. Then it's just up to those two minutes that we swim in the pool."
So far, Beard has competed in four consecutive Olympic Games, winning with two gold, four silver, and one bronze medal.
You can share this story on social media: