Russian lawmaker issues FIFA demand
The global football governing body and its European counterpart UEFA should compensate Russian teams after imposing bans, said Dmitry Svishchev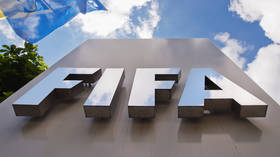 Russian teams should keep pushing for compensation from FIFA and UEFA because of the bans imposed by the two football governing bodies, according to State Duma Deputy Dmitry Svishchev.
"I think that we need to continue to demand compensation from FIFA and UEFA for removing our teams from competitions. Such a measure should at least be considered. The clubs have lost funds, they must be compensated," said Svishchev, who is chairman of the Duma Committee on Physical Culture and Sports.
FIFA and UEFA removed Russian teams from their competitions at all levels at the end of February because of the conflict in Ukraine. The sanctions remain in place, and have already seen the Russian men's team prevented from qualifying for the 2022 FIFA World Cup in Qatar and removed from the qualification stages for the 2024 UEFA European Championships.
At club level, Russian teams have been barred from lucrative UEFA competitions such as the Champions League and Europa League for at least the 2022/23 season, while the 2022 Champions League final was moved from St. Petersburg to Paris.
"It's unprofitable for UEFA to potentially lose Russian clubs," added Svishchev, as quoted by RIA Novosti. "Russia is a huge market. Football is developing in Russia, arenas are being built."
The Russian Football Union (RFU) lost its bid to overturn the UEFA and FIFA bans at the Court of Arbitration for Sport (CAS) in Switzerland, but could yet take up the case with the Swiss Federal Supreme Court.
CAS published the full reasoning in its verdict this week, claiming that UEFA and FIFA had the right to ban Russian teams, partly on safety and security grounds.
In light of the bans, it has been proposed that the RFU could seek to leave UEFA and join its Asian counterpart, the AFC, where it would presumably be more welcome and Russian teams would face fewer barriers for a return to competition.
However, it was announced at an RFU executive committee meeting at the end of December that the organization would establish a working group alongside UEFA in an effort to find a potential way back for Russian teams.
You can share this story on social media: