Russian football icon states case for sticking with Europe
Andrey Arshavin says his country would be better off in UEFA competitions amid talk of a switch to Asia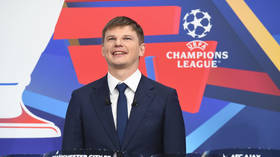 Russian former international football star Andrey Arshavin has urged his country not to ditch European governing body UEFA in favor of moving to its Asian counterpart. Arshavin suggested that even if Russia made the switch, it would not solve all of the problems caused by the current bans imposed on his homeland.
"We all understand in football terms that it's better to stay in Europe. To be honest, I still don't see any pluses from Asia," Arshavin told journalists this week, as quoted by TASS.
The former Zenit St. Petersburg and Arsenal winger said that even if leaving UEFA for the Asian Football Confederation (AFC) paved the way for World Cup qualification, Russia could still face the prospect of Western countries refusing to play against it because of the conflict in Ukraine.
"If it turns out that we qualify for the World Cup, [countries such as] Estonia will go there and say that they won't play against us," Arshavin added.
UEFA and global counterpart FIFA imposed bans on Russian teams from all their competitions at the end of February as a result of Moscow's military campaign in Ukraine.
The sanctions, which remain in place, saw the Russian men's national team deprived of the chance to qualify for the 2022 FIFA World Cup in Qatar. Elsewhere, Russia has already been removed from the qualification stages for the 2024 UEFA European Championships.
At club level, Russian teams are barred from prestigious competitions including the likes of the UEFA Champions League and Europa League for at least the 2022/23 season.
The sanctions have led the Russian Football Union (RFU) to float the unprecedented step of leaving UEFA and joining the AFC as a potential way back to international competitions for its teams – not least with the 2026 FIFA World Cup in mind.
However, the RFU announced at an executive committee meeting at the end of December that it would set up a working group alongside UEFA in an effort to resolve the current blanket bans. The RFU has said it is aiming to draw conclusions by the start of April before deciding on next steps.
Back in July, Arshavin warned that the bans on Russian football could remain in place until 2025, saying it would take time to reintegrate following a return to international competitions.
Arshavin, 41, is currently sporting director for youth development at former club Zenit. During his playing career, he was capped 75 times for Russia and helped the country to third place at the 2008 Euros.
At club level, Arshavin won the 2008 UEFA Cup and Super Cup with Zenit, and spent four years at English Premier League outfit Arsenal, scoring 31 times in 144 games across all competitions.
You can share this story on social media: