Djokovic opens up on 'villainization'
The Serb recalled his treatment during the saga which saw him deported from Australia 12 months ago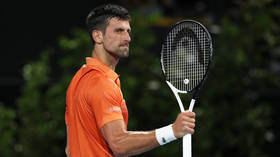 Novak Djokovic has said the media reports surrounding his deportation from Australia one year ago distorted the truth and painted him as a "villain," although he is still happy to be back in the country to compete at this year's Grand Slam in Melbourne.
In one of the biggest sporting scandals in recent memory, Djokovic was expelled from Australia last January following the intervention of government officials.
After being detained at an immigration center, Djokovic ultimately lost a legal battle to remain in Australia after it was claimed his presence in the country could incite anti-vaccine sentiment among the population.
Djokovic had arrived in Melbourne with a medical exemption to compete at the 2022 Australian Open after recovering from a Covid infection in the previous month.
"I was really drawn into a storm in media worldwide that was related to anything to do with Covid and the vaccine," Djokovic said in an interview with 9News Melbourne ahead of this year's tournament, which gets underway on Monday.
"All of a sudden I became the villain of the world, which is obviously a terrible position to be in as an athlete."
Djokovic had his three-year Australian visa ban overturned in November after the government removed vaccine requirements for foreign travelers.
He suggested that the media had misrepresented last year's developments, after he had been given a medical exemption by a panel of doctors which was consulted by tournament organizers.
"I have to say the media presented it in a completely wrong way because that's not what happened, and a lot of people still have the wrong idea about what happened," Djokovic said.
"There were two or three more people that came into Australia 10 days before I did with exactly the same exemption that I had, and I was just following the rules.
"My exemption was verified by an independent body and panel of doctors, so it was unknown who was giving the request, and I came in with all the valid papers.
"Everything got out of hand and then I was labeled as this or that. It was so big in the media that I just could not fight that, I didn't even want to get into that."
Djokovic has repeated his stance that he will not get vaccinated against Covid-19, but has consistently denied being an "anti-vaxxer", instead asserting that he supports freedom of choice over what people put into their bodies.
He admitted that the ordeal last January had taken a toll on him mentally, and that he had laid low after the scandal while the furor died down.
"It's still unfortunate and it hurts me that most of the people will have a wrong idea about what happened. That's what hurts me the most," said the Serbian star.
The 21-time Grand Slam winner insisted, however, that he harbors no ill will towards Australians.
"I don't hold any grudges, I'm definitely not against the people of Australia. Me being here proves how much I really want to be here, how much I want to play, and how much I like it," said the 35-year-old.
Djokovic has already enjoyed success since his return Down Under, winning the title at the ATP 250 event in Adelaide last weekend.
Fears were raised over a hamstring injury for Djokovic during that tournament and a subsequent practice match against Russia's Daniil Medvedev this week, although Djokovic is set to play another exhibition match on Friday against Australian home hero Nick Kyrgios.
Beyond that, Djokovic will start his bid to capture a record-extending tenth Australian Open title when he begins his campaign against Spanish outsider Roberto Carballes Baena next week.
The defending champion in Melbourne will be Rafael Nadal, who capitalized on Djokovic's absence last year by defeating Russia's Medvedev in the final.
You can share this story on social media: