Djokovic sparks injury fears ahead of Australian Open (VIDEO)
The Serb is aiming to win his tenth Australian Open crown this month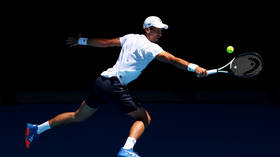 Novak Djokovic's pursuit of a tenth Australian Open championship is under threat after the Serb was forced to retire from a practice match with Russia's Daniil Medvedev after playing just a single set on Wednesday.
Djokovic, who was deported from Australia ahead of the tournament a year ago amid a Covid-19 vaccination row with the country's authorities, has been dominant down under since his first win at the event in 2008 - and another title would draw him level with Spanish rival Rafael Nadal for 22 Grand Slam victories.
But there are fears that the world's fifth-ranked player will be entering the tournament at less than 100% after he appeared to aggravate a hamstring injury he sustained during the recent Adelaide International in his warm-up match with Medvedev.
Djokovic, whose practice match with Medvedev was his first performance in Melbourne since last year's fractious dispute, retired around 40 minutes sooner than expected while he was leading 3-2 after requiring physio treatment when the players changed ends.
He was noted to be receiving knee extensions, which are often used to alleviate hamstring injuries.
"It's a hamstring that I had problems with in Adelaide actually," Djokovic said afterwards.
"It was against Medvedev when we played semifinals, and I played with him again today in a practice match. I just felt it a bit pulling and I didn't want to risk anything worse, so I played a set and apologized to him [and] he was understanding.
"I just want to avoid any kind of bigger scares before the Australian Open."
Djokovic won just one more game in the session but received physio treatment on two more occasions before he stopped the match after 36 minutes of play, with Medvedev winning the set by a score of 6-4.
The two were due to play for a total of around 75 minutes.
Djokovic was replaced by the 155th ranked Spaniard Pablo Andujar so Medvedev could play out the remainder of his scheduled warm-up session.
The injury sustained by Djokovic was initially noted last week in the Adelaide semifinal, coincidentally during another match with Medvedev, during which he required an off-court medical time out.
He was also seen to be stretching his leg out in between extended rally exchanges with the Russian player.
However, he was fit enough to win the Adelaide International final against Sebastian Korda by a score of two sets to one.
It remains to be seen to what extent, if any, Djokovic's hamstring will impact his ambitions in the Australian Open, but the development is certainly less than ideal for a player who will have the eyes of the tennis world firmly affixed to him over the course of the next several weeks.
You can share this story on social media: