Djokovic triumphs on Australian return (VIDEO)
The Serbian star claimed his 92nd tour-level win in Adelaide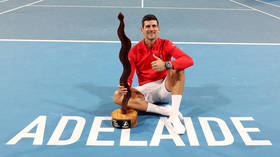 Novak Djokovic claimed his first singles title of the year early on Sunday when he survived a championship point against American Sebastian Korda to win his 92nd tour-level crown at the Adelaide International.
But the Serb, a hot favorite entering this month's Australian Open, certainly didn't have it all his own way. He was forced to come back from the brink of defeat in the second set to ultimately claim the win by 6-7(8), 7-6(3), 6-4 in a mammoth encounter which clocked in at over three hours.
Djokovic, perhaps feeling the effects of an injury to his left leg which bothered him during Saturday's semifinal win against Russia's Daniil Medvedev, praised Korda's effectiveness from the baseline afterwards, with the American's gameplan seemingly designed to test the Serb's mobility from distance.
Indeed, Korda's fearless play nearly delivered the biggest win of his career at 5-6 in the second set. However, even after gaining a 30-40 foothold, he was unable to dispatch Djokovic, who eventually powered his way through a tiebreaker and into a deciding third set.
With momentum on his side, Djokovic withstood any further attempts at a fightback and broke Korda's serve at 5-4 in the decider, ending the American's resistance.
"Amazing tournament, amazing effort today," he said afterwards.
"I'd probably say that you were closer to victory today than I was," he added, addressing his opponent.
"It was decided in one or two shots, one or two points. Tough luck today, but the future is bright for you, so just keep going, and you're an amazing player. Well done."
Djokovic's win comes on the eve of the Australian Open, an event at which he is a nine-time champion, and a year on from his contentious deportation by Australian immigration authorities for falling foul of Covid-19 vaccination protocols that were in place at the time.
The Serb's return Down Under, he admitted, had him wondering what type of reaction he would get from the public but Djokovic said he was very grateful for the manner in which he was received.
"It's been an amazing week and you guys made it even more special. For me to be standing here is a gift, definitely," he said.
"I gave it all today and throughout the week in order to be able to get my hands on the trophy.
"The support that I've been getting in the past ten days is something that I don't think I've experienced too many times in my life, so thank you so much [to] everyone for coming out every single match."
The win ties Djokovic with old rival Rafael Nadal for the most men's singles titles of the Open era with 92, behind only Ivan Lendl (94), Roger Federer (103), and Jimmy Connors (109).
Should he claim a tenth Australian Open win this month, he would draw level with Nadal for the most Grand Slam wins with 22.
You can share this story on social media: