Pro-Putin grandmaster outlines stance on mobilization
Sergey Karjakin says he is prepared to serve if called upon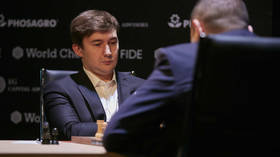 Russian grandmaster Sergey Karjakin has vowed not to "hide behind the chessboard" if he is called upon for his country's military operation in Ukraine.
Karjakin was banned in late March by chess world governing body FIDE's Ethics and Disciplinary Commission (EDC) for his vocal support of Moscow's operation.
The 32-year-old told RIA Novosti that, if necessary, he would be willing to step up after Russian President Vladimir Putin announced a partial mobilization at the end of September.
"I think that like other citizens of Russia, I could also receive a draft summons," said Karjakin.
"At least no one told me that I have some kind of exemption.
"If it arrives, it arrives. At least I'm not going to hide behind the chessboard.
"I am a native of Crimea, it is clear that everyone is upset in general because all this is happening," Karjakin added.
"I never said that everything is fine, but I still support my country. And I hope for the best and believe in it."
Last week, International Olympic Committee (IOC) president Thomas Bach suggested that Russian athletes could return from the sweeping bans imposed on them if they are willing to condemn their country's actions in Ukraine.
Karjakin responded to those remarks by accusing Bach of violating the principle of sport being outside politics.
"I am ready to consider participation in an international tournament only without Thomas Bach and his conditions," Karjakin said.
"These requirements violate the basic principle that sport should be [kept] out of politics.
"Unfortunately, sport has turned into an instrument of pressure from the West on our state; by this they only dishonor themselves," he added.
Karjakin is a former world rapid and blitz chess champion, and pushed Norwegian great Magnus Carlsen all the way in their 2016 world title match in New York before losing on a series of tiebreakers.
You can share this story on social media: