Baseball manager will refuse to come out for US national anthem
Gabe Kapler said he is "not ok" with the state of his country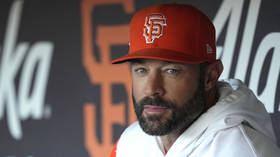 The manager of the San Francisco Giants Major League Baseball team, Gabe Kapler, revealed he will not come out for the American national anthem as is custom before games until he feels better "about the direction of our country".
On Tuesday, nineteen children and two teachers were killed by an 18-year-old gunman in the Robb Elementary School Shooting near the Mexican border in Texas.
Speaking to reporters in Cincinnati, Ohio before the weekend, Kapler admitted that he didn't expect his protest to "move the needle necessarily" but said the topic was something he felt strongly enough about in order to take the step that will be deemed as unpatriotic by many.
In 2016, ex-NFL quarterback Colin Kaepernick took the knee during the Star Spangled Banner before American football games as a protest against racial injustice and police brutality, and was later blackballed from the league when released by his team later that year while heavily criticized as disrespectful.
Kapler, who was voted the National League's Manager of the Year in 2021, also published an essay on his website about his unhappiness with standing for the national anthem after a minute's silence to honor the victims of the Robb Elementary School Shooting.
Gabe Kapler does not plan on coming out for the national anthem and says that will be his plan going forward "until I feel better about the direction of our country." pic.twitter.com/NV8AOdTxKd

— B/R Walk-Off (@BRWalkoff) May 27, 2022
"We didn't stop to reflect on whether we are actually free and brave after this horrific event, we just stood at attention," said Kapler, adding that his father taught him to stand for the Pledge of Allegiance when he believed his country was "representing its people well or to protest and stay seated when it wasn't".
"I don't believe it is representing us well right now," Kapler stated, before going on to slam the American gun industry, lobbyists and politicians while confessing he wanted to take the knee.
"I knew that thousands of people were using this game to escape the horrors of the world for just a little bit. I knew that thousands more wouldn't understand the gesture and would take it as an offense to the military, to veterans, to themselves," Kapler continued in a nod to Kaepernick, boldly saying that he is "not OK with the state of this country".
"I wish that I could have demonstrated what I learned from my dad, that when you're dissatisfied with your country, you let it be known through protest. The home of the brave should encourage this," Kapler insisted.
Kapler is the second managerial figure in US Sports to speak out against rampant gun violence in the US this week.
On Wednesday, Golden State Warriors basketball coach Steve Kerr used his news conference to deliver an emotional speech that went viral while refraining from discussing matters related to either his sport or his team's playoff run.
You can share this story on social media: