Advice for Valieva & attacks on sanctions: What Putin told Russia's Olympians
The Russian president mixed words of praise with condemnation for international sanctions as he welcomed sports stars to the Kremlin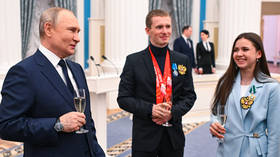 Russia's heroes from the Beijing Winter Olympic Games were honored at the Kremlin on Tuesday, where President Vladimir Putin handed out a host of awards and piled praise on their achievements.
But the Russian leader also took the opportunity to attack the sporting sanctions imposed on his country's athletes, while handing out advice to the likes of teenage figure skating star Kamila Valieva on how to handle pressure.
We select some of the best comments from Putin as he surveyed a sporting landscape which has changed considerably as a result of the military offensive in Ukraine.
You can share this story on social media: