Russian sporting bans: The foreign figures with alternative opinions
Not everyone agrees with the sporting sanctions slapped on Russian athletes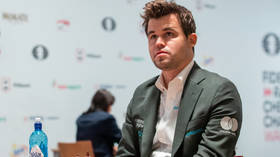 After Moscow launched its military campaign in Ukraine, Russian athletes have faced the consequences through widespread sanctions imposed by various sporting federations.
Many organizations have taken their cue from the International Olympic Committee (IOC) after it recommended that no Russian or Belarusian athletes be invited to international events, leading to participation being blocked for competitors from the two countries.
Even the likes of the International Blind Sports Federation have joined the pile-on – although at the same time it would be false to assume that the anti-Russian and Belarusian stance has been universal.
Indeed, there are sporting figures and organizations outside of Russia and Belarus who have questioned the type of stance espoused by the IOC, with opinions ranging from expressions of qualified sympathy for banned Russian and Belarusian athletes to open acts of support.
We look at some examples which have made the headlines in recent weeks.
You can share this story on social media: