Security guard pulls off 'perfect tackle' in brutal takedown of football pitch invader (VIDEO)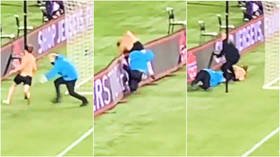 A security guard performed a stunning tackle that sent a pitch invader smashing into and over an advertising board during a World Cup qualifier.
A half-naked man halted play between Canada and Costa Rica with the score level at 0-0 in Edmonton's Commonwealth Stadium.
Deep in the 18-yard box, he jogged through a pack of three men including Canada 'keeper Milan Borjan.
Yet a guard in a blue jacket was merely biding his time before calculating a run to perfection which saw him perform a cross between a hockey check and American football tackle on the over-excited punter.
The fan folded over the hoardings like laundry to dry, with the security guard pulling him back onto the turf while clutching at his legs.
The match finished 1-0 to Canada thanks to a Jonathan David goal after 57 minutes.
But the "perfect tackle", as some fans dubbed it, was the main talking point online afterwards.
"For me, Clive, that's a straight red," said one enthusiast, using a phrase usually coined by British viewers.
"But to be fair, was it a clear goalscoring opportunity?," another jokingly asked.
"The antelope had no chance against the cheetah," quipped a popular ESPN pundit.
Canadian Football League outfit the Toronto Argonauts popped up in the replies with eye emojis, and a fellow Canuck said: "Our national rugby team needs to figure out who the guy was that threw the tackle. They need some help."
A party pooper added a more serious note by suggesting the potentially painful challenge would make for a "nice, easy lawsuit" for the fan.
"No, he shouldn't have been there – but [there was a] definite case of unreasonable force," added the internet lawyer.
"Seemed reasonable to me," said a backer of the bouncer. "Not sure what you see wrong with it."
The result meant Canada are closing in on a place at the finals and are the only team with an unbeaten record in the regional CONCACAF qualifying.
You can share this story on social media: