Winter Olympics chiefs accused of ignoring alleged genocide of Muslim group at center of political boycott row between US & China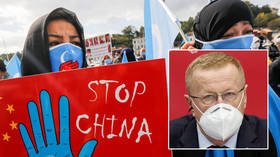 An IOC boss has dismissed suggestions that hosts China should be pressed on their human rights record ahead of the 2022 Winter Olympics, with the US Congress targeting sponsors and an ex-athlete questioning the committee's ethics.
IOC Vice President John Coates insisted that the committee does not have the power to tell countries how to act, responding to calls from human rights groups and some American politicians for his organization to consider the drastic step of relocating the showpiece if China does not end its alleged genocide of the Uighurs and other minority groups of Muslim ethnicity.
Rights groups believe that at least a million Uyghurs and other prisoners from Muslim minorities are currently being kept in the country's Xinjiang region, leading to a political row over the Games and boycott demands from prominent figures in the US and other parts of the world.
Probed on the matter at an event in Australia, Coates reportedly insisted that the IOC is "not a world government".
Why John Coates' AOC has helped Afghans with refugee visas but stays mum on Uyghurs: "The work that the IOC's doing is to protect the Olympians and those involved in the Olympic movement...the situations you've referred to, the humanitarian one in China, is not within our remit." pic.twitter.com/w3wVFZJqUX

— Jack Snape (@jacksongs) October 13, 2021
"We have to respect the sovereignty of the countries who are hosting the games," Al Jazeera quoted the chief as saying, alongside a pledge that his organization places "a very high emphasis on human rights".
"I know it's a very important part of the fundamental principles of Olympism, the fundamental principles set out in the Olympic charter.
"The IOC's remit is to ensure that there are no human rights abuses in respect of the conduct of the Games within the National Olympic Committees or within the Olympic movement."
"We have no ability to go into a country and tell them what to do. All we can do is to award the Olympics to a country, under conditions set out in a host contract… and then ensure they are followed."
China has denied wrongdoing, claiming that vocational training centers have been set up to combat "extremism", and Beijing also stands accused of human rights abuses in Hong Kong.
There have been widespread calls, including from speaker of the United States House of Representatives Nancy Pelosi, for sponsors and delegates to boycott the Winter Olympics or find other ways to protest human rights in China.
Five big companies – including Visa and Coca-Cola – have been urged by US lawmarkers to drop their support for the Games, with Beijing accusing its critics of slander and "politicizing sports".
Jules Boykoff, a former Olympic-level athlete and a professor of political science at the Pacific University in the US, was said by the outlet to have felt the committee has "selective ethics".
Also on rt.com
House Speaker Pelosi proposes diplomatic BOYCOTT of China's 2022 Winter Olympics
"On one hand, it is the all-powerful entity that can choose where to place the games," she said. "On the other hand, it acts as if it cannot do anything. The reason is money. They need to keep that money flowing to Olympic coffers."
Russia is also unimpressed, with foreign ministry spokeswoman Maria Zakharova warning last month: "This is not the first time they have discussed boycotts in relation to China and other countries in relation to other major events in general.

"They probably have such a disease – constantly discussing boycotts... but it seems to me that sports and the Olympic movement are not about that at all."
The Games are scheduled to take place in February.
Also on rt.com
Calls by US and EU for political boycott of Winter Olympics in China are a 'disease' & 'nonsense', Russian foreign ministry warns
You can share this story on social media: