'I never hit my fiancee': UFC wildman Jones addresses violence allegations after gym axe over drinking, reveals childhood trauma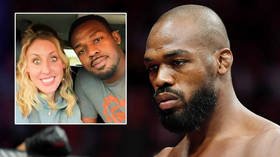 Ex-UFC champion Jon Jones has shed light on his alleged attack on his fiancee in Las Vegas, revealed his heartbreak at being cut by the legendary Jackson Wink MMA gym and deleted a tweet saying he had a difficult childhood.
On what should have been one of the greatest evenings of his life, when he was inducted in the UFC Hall of Fame for his legendary 2013 title fight with Alexander Gustafsson, Jones made headlines for all the wrong reasons.
The 34-year-old was later arrested for misdemeanor domestic battery and the felony of tampering with a vehicle by police in Las Vegas police.
According to their police report, officers were called to the Caesar's Palace hotel in connection to an alleged domestic disturbance with Jones detained while taking a stroll nearby.
Also on rt.com
UFC star Jon Jones 'headbutted police car' during Las Vegas arrest, fiancée was found bleeding after $10K strip club row – reports
Reported as emotionally unstable, Jones allegedly smashed "his head into the front hood of the patrol vehicle, leaving a medium size dent as well as chipping of some of the paint on the vehicle."
His fiancee and mother of his three children, Jessie Moses, was discovered with blood on her clothing and face by officers and admitted that Jones had been a "little bit physical".
"He touch[ed] the back of my head and pulled my hair a little bit but he did not hit me or anything," she added.
While the pair appear to have reconciled, posting a clip of themselves kissing online, Jones has now taken to Twitter this week to address certain rumors.
"I love how people are imagining the worst possible situation in their heads and making it somehow factual," he announced.
"I never hit my fiancee and our daughters were woken up after our confrontation. My daughters didn't see or hear us arguing."
It has also emerged that the New York state native, who is currently preparing for a move to heavyweight from light heavyweight, has been asked to leave the legendary Jackson Wink MMA gym in Albuquerque, New Mexico.
Explaining the decision on the MMA Hour, its owner, Mike Winkeljohn, said he felt he "had to" take the drastic step in order to help Jones get back on track.
"I just had a conversation with him," Winkeljohn confessed to host Ariel Helwani.
"I said, 'Jon, here's the deal. You're like my little brother. You have to stop drinking and fix these things for a certain period of time until you come back to the gym.'
"So at the moment, he's out of the gym. So at the moment, he's not allowed to come in the gym.
"I felt like I had to do that, because ignoring it and expecting different results, as they say, is insanity.
"He's got a lot of yes people around him that won't tell him the truth. He might hate me for it, but I'll tell him the truth."
In a deleted tweet, Jones addressed this too. "Had a heartbreaking conversation over the phone with one of my longtime coaches last night," he said.
"Really hurts to lose the support of someone I respect so much. Sincere thank you to the rest of the coaches for staying in the fight with me. Our journey continues."
Jones has claimed his trauma-hit brain "can't handle" alcohol, Jones left a tweet up where he said that the rumors regarding his partner and children were the "only thing I care to clarify".
"Outside of that, looking forward to moving forward without alcohol," he said. "It's the first time in my life where I'm actually ready to quit. Glad to have the support of my fiancee, family, friends and fans."
In another tweet he removed, Jones told a respondent that his life "wasn't always great". "Being molested as a child, losing a parent and sibling to disease at a young age," the 34-year-old elaborated. "I got things I need to deal with."
When one follower told him that "actions speak louder," Jones replied: "Yep, I totally understand that – that's why I'm not going to do some big PR stunt, hire a publicist.
"I'm not going to do anything like that. I know it's real. I know that I'm ready. Time will take care of the rest."
Also on rt.com
'He's a grown-ass man': UFC star Tate accuses Jones of 'unforgiveable things', warns him over alleged bloody domestic disturbance
You can share this story on social media: