Beatings, racism and political point-scoring: Euro 2020 laid bare much of England's festering underbelly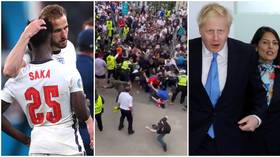 England's players and manager deserve praise for a brave campaign and reaching their first final in 55 years. But right at the last hurdle, they were let down by the dark underbelly of the English game, politics, and society.
Though a continent-wide affair, Euro 2020 was in essence England's first home tournament in 25 years.
Save for the quarter-final, a 4-0 rout of Ukraine in Rome, England played every one of their other six games at Wembley stadium.
Conceding just two goals, neither of which were in open play, The Three Lions roared to the grand finale and went one better than their 2018 World Cup campaign.
Following a similar blueprint to that Croatia semi-final loss in Moscow, though, scoring early paved the way for a tragic downfall as youth and inexperience was trounced by older, experienced heads such as Luka Modric and Ivan Rakitic. Or in this case, a quartet of goalscorer Leonardo Bonucci, Giorgio Chiellini, Jorginho and Marco Verratti.
A 22-year-old goalkeeper in Gianluigi Donnarumma signed their death warrant in the shootout, with Italy winning their second ever European crown 3-2 on penalties.
But once more this felt like the footballing gods denying England something that felt so close yet is still so far.
Put simply, maybe they still don't deserve it.
Not for a minute does this mean England's diverse, socially conscious, humble and respectful squad who are a credit to their country and families.
But rather the public and so-called "fans" who once more ruined what should have been everyone's greatest day since July 30, 1966.
UEFA could have perhaps held an earlier kick-off than eight o'clock at night, granted.
But can grown men really not be trusted to behave and pace themselves in drink?
Italian restaurants in the capital closed expecting the worst, and fans of the Azzurri wisely seemed to stay clear of hotspots such as Wembley Way and Leicester Square, which turned into cesspits as boozed-up punters threw bottles at each other, fought among their own number and then stormed the stadium while scrapping with stewards.
These scenes already caused international embarrassment and had the rest of the world rooting for Roberto Mancini's men.
This element weren't done there, though. After a trio of black and mixed-race youngsters in Marcus Rashford, Jadon Sancho and Bakayo Saka all missed penalties, they were predictably racially abused.
The likes of Prime Minister Boris Johnson and Home Secretary Priti Patel, who were previously against "gesture politics" despite draping themselves in flags and England shirts, were foul hypocrites in feigning shock despite supporting the booing of the knee, and a Tory back bencher was caught mocking Rashford and scoffing at his efforts to feed impoverished children during the pandemic.
Would football really want to come home to a country like this? Maybe it is better off elsewhere as an expat, until home has become a better place to return to and live.
Forget about a World Cup in 2030 as well, which will most likely go to the far more tranquil Iberian Peninsula and a joint bid from Portugal and Spain.
Also on rt.com
'It starts at the top': England trio racially abused after missing penalties in Euro 2020 defeat – and some blame PM Boris Johnson
It is a cliche to say that this team healed a divided nation, but it did if for a month.
In the end, though, the same old dark underbelly reared its ugly head at the last minute and spoiled the fun.
Gareth Southgate has told the bigots that they are on the "losing side". Yet until they are fully eradicated for once and for all, and politicians who have no interest in football stay out of it or stop taking potshots for their own gain, perhaps the Three Lions will always deservedly be too, however agonizingly close they get to glory.
By Tom Sanderson
You can share this story on social media: