'I feel bad for the fans': Shock as Italian Serie A side Roma reveal Jose Mourinho will be their boss... & he says he 'can't wait'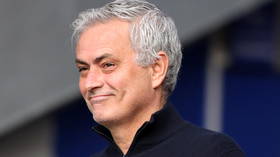 A little more than two weeks after being axed by Spurs towards the end of a miserable campaign, former Champions League and Premier League winner Jose Mourinho has been announced as the next boss of Italian Serie A also-rans Roma.
Portuguese provocateur Mourinho will return to Italy for the first time in more than a decade from the start of the 2021/22 season, when he will replace compatriot Paulo Fonseca.
Roma have not won a trophy since Fonseca was appointed in June 2019 and are almost certain to exit the Europa League barring a miraculous comeback in the home leg of their semifinal with Manchester United, having lost 6-2 at Old Trafford on Thursday.
Mourinho won the league title in both of his seasons at newly-crowned champions Inter Milan after joining in 2008, as well as the Champions League in 2010.
"After meetings with the ownership and [General Manager of Football] Tiago Pinto, I immediately understood the full extent of their ambitions for AS Roma," said Mourinho in a statement.
"It is the same ambition and drive that has always motivated me and, together, we want to build a winning project over the upcoming years.
"The incredible passion of the Roma fans convinced me to accept the job and I cannot wait to start next season.
"In the meantime, I wish Paulo Fonseca all the best and I hope the media appreciate that I will only speak further in due course."
The 58-year-old had been widely tipped to leave England, where his star seemed to have spectacularly fallen during his unsuccessful time at Spurs following his uninspired tenure at United beforehand.
The reaction to one of football's most instantly recognizable and divisive figures taking over at a relatively unheralded club was predictably mixed. "I feel sorry for Roma fans," mocked one critic on Twitter.
Mourinho will again be employed by billionaires in the form of American Roma chiefs Dan and Ryan Friedkin.
"A great champion who has won trophies at every level, Jose will provide tremendous leadership and experience to our ambitious project," they said, describing themselves as "thrilled and delighted" with the move.
"The appointment of Jose is a huge step in building a long-term and consistent winning culture throughout the club."
Pinto pledged that the club's hierarchy would work with Mourinho to "build the foundations of a new AS Roma."
"When Jose became available, we immediately jumped at the chance to speak with one of the greatest managers of all time," he enthused.
"We were blown away by Jose's desire to win and his passion for the game: no matter how many trophies he has won, his primary focus is always on the next one. He possesses the knowledge, experience and leadership to compete at all levels.
"We know that in order to build a successful sporting project it takes time, patience and the right people in the right positions. We are supremely confident that Jose will be the perfect coach for our project, for both our immediate and long-term future."
Roma are currently seventh in the top-flight table, all-but mathematically certain not to finish in the fifth spot required to reach next season's Europa League.
The club are on a wretched run domestically, winning one and losing five of their last eight matches on a streak that has included defeat in their last three games in all competitions as part of a six-match winless sequence.
They have won Serie A three times, although they most recently did so in 2001 and 1983, while their sole European trophy is the now-defunct Inter-Cities Fairs Cup, which they lifted in 1961.
Mourinho will meet several familiar faces in the Roma locker room, not all of whom have been entirely complimentary about the notoriously prickly coach recently.
Speaking about his time at United under Mourinho, Armenia midfielder Henrikh Mkhitaryan told Forza Roma last month: "Once, Mourinho saw me at breakfast and said to me: 'Because of you, the press criticizes me.' I replied: 'Really, mister? I'm not doing it on purpose'."
Roma regular Pedro was signed by Mourinho months before he was sacked by Chelsea in 2015. "Everything just wasn't right," the Spaniard said at the time.
"We were very low in the league, the spirits were very low, the trust was very low – everything was going wrong.
"It made it very difficult to be fit, to be in a good position. It was just the whole thing – it wasn't right."
Mourinho was rumored to have been talking about former England defender Chris Smalling – now at Roma after joining from United last year – when he implied that some United players were not taking a resilient enough approach to playing through the pain barrier during his time in charge at the club.
One player who is likely to be thrilled to see Mourinho take the reins, though, is Davide Santon.
"I was so young that Jose Mourinho treated me like a son," the left-back said of their time together at Inter, speaking in 2017.
"At a press conference, he called me 'the baby' and from there everything went off and everyone called me that."
Praising Santon in 2013, Mourinho said: "Whenever I find someone who has everything to become a top player and stay in the first team, I've never held back in giving them a chance.
"Maybe in Italy they don't know what is best. I'm talking about Davide Santon. Santon has suffered two great injuries.
"However, at 17 years old, everybody was saying that he would become for Inter what [Italy legend] Paolo Maldini was for Milan."
Also on rt.com
'I'm always in football': Jose Mourinho films media on Instagram before issuing first defiant comments after Spurs sacking (VIDEO)