'0% chance they will not be having sex': Skepticism after Tokyo Games Covid-19 playbook bans 'physical contact' for athletes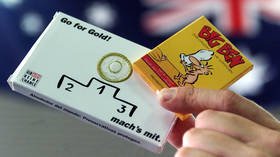 After Tokyo Games officials unveiled new guideless for athletes, outlining that no undue physical contact will be allowed during the Olympics, the internet has erupted with skepticism at the presumed ban on sex and parties.
The "playbook" was released on Tuesday and contains a set of strict, obligatory rules for all athletes who will participate in the biggest sports spectacle this coming summer.
READ MORE: No hugs or singing... but athletes WILL NOT be required to have vaccine as Tokyo Olympics outlines Covid-19 controls
Among other measures aimed at battling the spread of Covid-19 during the Games, social distancing and avoiding physical contact were named as basic principles which should be observed by all participants.
Despite there being no direct reference to a ban on sexual activity, fans have assumed that along with hugs, handshakes and kisses, the phrase 'physical contact' also implies intimate relationships between Games participants.
Athletes and staff members will be also be prohibited from shopping and partying, as well as from attending sporting events other than their own, as part of organizers' measures to prevent the spread of Covid-19.
Fans will not be allowed to sing or chant in the stands, with clapping being the only approved way of supporting athletes.
At previous Olympics athletes were traditionally supplied with free condoms. With the tough Covid-19 restrictions introduced by the organizers, it looks like the so-called 'condom' tradition will be interrupted.
Many also felt that athletes would struggle to refrain from physical contact, with one person writing: "Having been to an Athlete Village at the Olympics, there is 0% chance that they will not all be f*cking each other."
The Olympics has seen numerous sex stories from the Athletes' Village down the years, including the case of Brazilian diver Ingrid Oliveira.
She claimed she received porn offers after supposedly kicking her teammate out of their room to romp with a canoeist at the 2016 Olympics in Rio.
Also on rt.com
'I got porno offers afterwards': Brazilian diver opens up on Olympic sex scandal
Tokyo Games officials said that all measures outlined in the playbook will be obligatory for all visitors, even those who have been vaccinated.
"The playbooks are the basis of our game plan to ensure all Olympic and Paralympic Games participants, and the people of Japan, stay safe and healthy," they said.
Those ignoring the safety guidelines might face the prospect of being kicked out of the Games.
You can share this story on social media: