Japan denies seeking a 'face-saving way' to cancel Tokyo Olympics due to coronavirus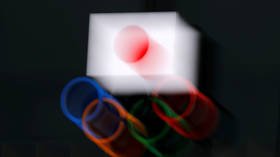 The Japanese government "privately" concluded that the Tokyo Olympics, rescheduled from 2020 due to the coronavirus pandemic, will have to be canceled altogether, The Times reported citing sources inside the ruling coalition.
Japan's Deputy Chief Cabinet Secretary Manabu Sakai told Reuters on Thursday that there is "no truth" to reports about the possible cancellation, while Prime Minister Yoshihide Suga said he remains "determined" to work closely with Tokyo and the International Olympic Committee to host the event, already rescheduled from 2020 due to the coronavirus outbreak.
Earlier on Friday, the Times reported, citing sources inside the ruling coalition, that officials had already agreed to cancel the event altogether and were looking for a "face-saving" way to announce it, while leaving open the possibility that Tokyo could host the Olympics in 2032, the next available slot, or some later date.
"No one wants to be the first to say so but the consensus is that it's too difficult," an anonymous source told the Times. "Personally, I don't think it's going to happen."
Also on rt.com
Games over? 80% of Japanese opposed to hosting Tokyo Olympics due to Covid-19 fears – survey
While both the International Olympic Committee and the Japanese government have maintained publicly that the games will take place in July and August as scheduled, the paper alleged that a "global winter wave" of coronavirus infections was forcing them to reconsider.
"We will have full anti-infection measures in place and proceed with preparation and with a determination to achieve the Games that can deliver hope and courage throughout the world," PM Suga told the Japanese parliament this week – despite recent polls showing that some 80 percent Japanese citizens favor postponing the games.
Japan has spent at least $25 billion on its Olympics preparations, 75 percent of which was drawn from the taxpayer's purse. With the 2024 games set to take place in Paris, and the 2028 event in Los Angeles, the Times speculated that Tokyo is hoping to be awarded the 2032 games "out of sympathy."
Like this story? Share it with a friend!
You can share this story on social media: