'You violated my trust': Former US team basketball assistant Ryan Ayers charged with taking sexual snaps & film of ex-girlfriends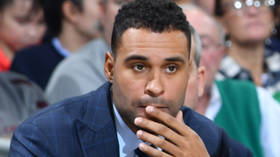 Court documents have revealed the charges against a top former basketball player and assistant coach, showing that he faces counts of voyeurism and domestic battery, owes a release bond of $7,500 and must wear a tracker once out.
Ryan Ayers, who played for Atlantic Coast Conference side Notre Dame after graduating and returned as an assistant in 2016, is said to have secretly taken sexual photographs and videos of two of his ex-girlfriends.
As part of a potential Level Six felony charge in the state of Indiana, which carries a sentence of up to two-and-a-half years in prison and a maximum fine of $10,000, Ayers is said to have shared some of the photos in a group chat, given one ex-girlfriend a nosebleed while attempting to kick her out of a car after she found out about the chat and failed to delete a video after promising to do so.
According to court documents shared by WNDU, crime unit investigators found "various images of naked women where they seem to be unaware that a photo was being taken of them."
"These images include the women in the shower, sleeping on a bed or in a sexual position," they added.
The documents said that a detective who had spoken to one of the victims had seen an email exchange in which she warned him how he had "violated me with the camera" in a way that "really, really hurt".
They also said in the exchange that they had refused permission to use a camera weeks earlier and concluded by telling Ayers that "you violated my trust on an unspeakable level."
Mike Brey on former AC Ryan Ayers: "The University and I decided that Ryan was unable to continue in his role to be a leader of young men, so it was necessary to make the staffing change a few months ago. This is a personal issue for Ryan and we won't elaborate any further."

— Tom Noie (@tnoieNDI) January 5, 2021
The detective saw a reply from Ayers in which he said sorry several times and reflected that he had "sincerely apologized over and over again."
Detention considerations included a description of Ayers as a "clear and present danger to this victim".
Ayers left the Notre Dame men's basketball program in September, when a statement said he was "pursuing other opportunities."
Also on rt.com
'It didn't look good': NBA star floored with blood gushing from mouth in horror injury after taking elbow to face in game (VIDEO)
You can share this story on social media: