Marvel-ous: YouTube boxing rookie Logan Paul targets 'Thor' star Hemsworth after Mayweather fight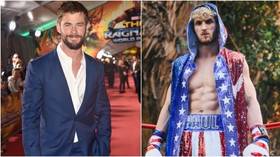 Not content with taking on boxing icon Floyd Mayweather Jr in his next bout in February, YouTuber Logan Paul has now trained his sights on a big name from the world of Hollywood: 'Thor' actor Chris Hemsworth.
Paul, 25, is set to step into the ring for a 'special exhibition match' with retired former five-weight world champion Mayweather, 43, on February 20 at a venue yet to be confirmed.
READ MORE: 'Why is he entertaining this clown?': Boxing fans fume as Floyd Mayweather announces fight with YouTuber Logan Paul
It is an unlikely match-up for the social media influencer, who has lost his only professional boxing contest to date, suffering a split decision defeat to fellow YouTuber KSI back in November of 2019.
However, despite seeming to have his work cut out with Mayweather, Paul is already looking beyond that bout – calling out Australian Hollywood heartthrob Hemsworth, who is best known for playing Marvel superhero 'Thor'.
Responding to a clip of Hemsworth, 37, doing some pad work of his own, Paul wrote: "I'll fight him after Mayweather."
Paul – whose brother Jake is also forging a putative career for himself as a boxer, having knocked out former NBA star Nate Robinson on the Tyson versus Jones Jr card last year – has been warned that he could be biting off more than he can chew by meeting the 50-0 Mayweather.
In a mushroom-fueled appearance on a recent podcast, heavyweight legend Mike Tyson told the rookie boxer: "Let me tell you something about Floyd – this is what I don't like about him either.
"Whatever you say about him, he's in that gym. He retired but he stayed in the gym, he can't help it. That's his heroin – the gym.
"He might let you hit him a couple of times to make the show look good. You're a man, you're not f*cking charity. There's always a danger when you go in the ring. Anything can happen."
Also on rt.com
'I'm an extremist': Boxing great Tyson scoffs magic mushrooms, puffs marijuana, pets pigeon while warning Logan Paul on Mayweather
"Floyd is going to beat [Paul's] f*cking ass. He's one of the best. How can you not be an asshole when you're that great? [But] there's only one step from the limo to the gutter."
Jake Paul has even warned his sibling off the fight, saying: "My brother's f*cked!It's bad for the sport. I think it's just for clout."
That clout would be sent firmly into the stratosphere should Logan ever end up dancing with Hemsworth in the ring.
Also on rt.com
'My brother's f*cked!': Jake Paul SLAMS sibling Logan over Floyd Mayweather fight (VIDEO)
You can share this story on social media: