PSG 0-1 Bayern Munich as it happened: Surprise selection Kingsley Coman the matchwinner in UEFA Champions League final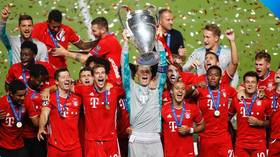 Recap RT Sport's live updates from the UEFA Champions League final as Bayern Munich edged Paris Saint-Germain 1-0 in the Estadio de Luz in Lisbon to capture their SIXTH European Cup success.
21:18 GMT

TWITTER UPGRADE

Bayern have made a subtle change to their display name on Twitter...

21:15 GMT

IT DIDN'T TAKE LONG...

The fans are out in force on social media taking pleasure in Neymar's final defeat for PSG.

The Brazilian's playing style may have won him a ton of admirers, but it's seen plenty of fans turn against him, too. And some of the more cruel members of that group are having a field day on Twitter right now.

21:05 GMT

UP TO THIRD

Bayern Munich's sixth European Cup triumph puts them in third in the all-time winners list.

Real Madrid are away and clear at the top of the list, having won the famous trophy a staggering 13 times.

AC Milan are in second spot with seven. But they're within striking distance of Bayern who sit third on the list, with six.

Liverpool and Barcelona are next up with five and four European Cups, respectively.

21:03 GMT

NOT-SO HAPPY HOLIDAYS

Rio Ferdinand reacting to PSG's performance in the final on BT Sport:

"These guys won't enjoy their holidays this year. I've been there. You'll be just enjoying yourself and getting into the groove, and then you remember this feeling. It's terrible.

"After the Champions League final in Moscow [when Manchester United beat Chelsea in 2008], it was probably the most I've ever consumed. I went toe-to-toe drinking with one of our fans who was at the party. I ended up showering in my suit and almost missed the flight home!"

20:55 GMT

IT'S ALL OVER!

Bayern Munich are champions of Europe.

Hansi Flick's inspired decision to select Kingley Coman paid off in the grand manner as the Frenchman's second-half header on the hour mark proved the difference-maker in a tight, tense final in Lisbon.

The final score is PSG 0-1 BAYERN MUNICH

20:48 GMT

CAN PSG SAVE THEMSELVES?

We're deep into five minutes of stoppage time, but PSG have scored the last goal of the game in nine of their previous ten UEFA Champions League matches this season.

Can they continue that run and take this final into extra time?

20:46 GMT

TWO MINUTES TO GO

Bayern's one-goal lead is holding firm.

Former PSG man Kingsley Coman's strike against his former team is still the difference between the two sides.

20:37 GMT

TROUBLE IN PARIS

Police have clashed with fans in Paris as officers removed fans from bars for not following social distancing rules during the Champions League final.

Fans have gathered in bars and restaurants across the French capital to watch PSG take on Bayern, despite concerns over the protective measures in place as coronavirus infections rise in France.

The government had advised fans to wear masks in public, while a number of bars were closed. However, according to French interior minister Gerald Darmaninmore, than 200 people have received cautions for not wearing face coverings.

Elsewhere in the city, fans outside the Parc des Princes threw missiles at police vehicles, prompting officers to disperse the gathering with the use of tear gas. No arrests were made.

Meanwhile, inside the stadium, thousands of fans gathered to watch on big screens, though a witness reported to news agency Reuters that many of them were not wearing face masks.

20:33 GMT

STAT ATTACK

Bayern are only the third team to reach 500 goals in the UEFA Champions League.

They join Real Madrid and Barcelona, who have both surpassed the 500-goal mark in the competition.