Khabib will be 'sh*tting his pants' and trying to 'sniff Gaethje's jockstrap,' says Conor McGregor as he goads UFC rival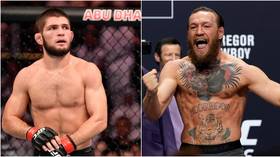 Conor McGregor has goaded UFC rival Khabib Nurmagomedov by claiming the Russian will be "sh*tting his pants" against Justin Gaethje in the pair's lightweight title unification fight and trying to "get a whiff of his jockstrap."
UFC lightweight champ Khabib meets interim title holder Gaethje on October 24, as the Russian bids to extend his unbeaten record to 29-0.
Describing his plans for the fight in response to a post on Instagram by UFC commentator Joe Rogan featuring Gaethje, Khabib said the American fighter was "a nice guy" but that he would "drown him in the deepest ocean" when they meet in the octagon.
"Justin is a very nice guy and good opponent for me, but when octagon close he have to be ready not only boxing match, I'm not Dustin or Tony. I will take him to the deepest ocean and drown him InshaAllah," wrote 'The Eagle'.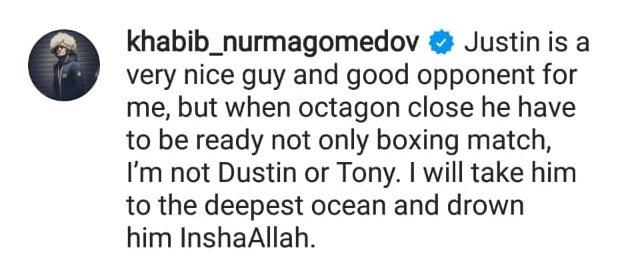 Former foe McGregor - whom Khabib famously choked out in the fourth round of their grudge match in Las Vegas in October 2018 - evidently got wind of the comment, turning to Twitter to take a pop at the Russian.
"In other words – 'I'm going to be running around the outside of the cage, sh*tting my pants. And within the first ten seconds of the fight I'm diving at his legs for a good whiff of his jockstrap," mocked the Irishman in a now-deleted tweet.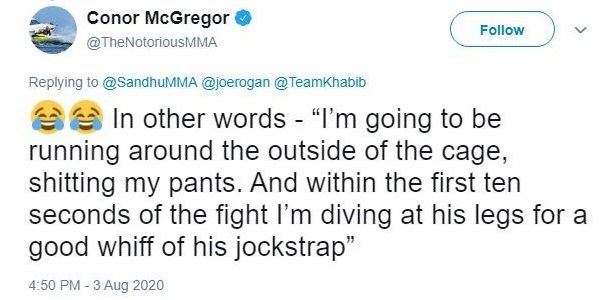 Despite McGregor's continued activity trading digital barbs with his rivals, he looks set to remain on the sidelines after retiring back in June - for this year at least.
Speaking this week, UFC boss Dana White said of McGregor: "I'm not saying he won't fight in 2021, but I'm telling you we don't have a fight planned for him in 2021. But I guarantee you he will not fight in 2020. Conor McGregor is retired.
Also on rt.com
Playing PacMan: Ex-UFC champ Conor McGregor hints at long-rumored boxing scrap with Manny Pacquiao by accepting fight in Filipino
"I think most of us don't believe that he'll remain retired, but let me put it to you this way: I owe fighters that are under contract with me three fights a year. OK?
"If I don't deliver those three fights a year, I have to pay them. Conor McGregor is retired, whether people want to believe it or not," White added.
In-between taunting rivals online, the Notorious Irishman has hinted at another foray into the ring, tweeting 'I accept' in Filipino in what many have taken as a sign that he wants to meet boxing icon Manny Pacquiao.
Khabib, meanwhile, declared on social media this week that he will step up his 'hard' preparation for the Gaethje bout from September, when he will link up with American Kickboxing Academy coach Javier Mendez.
Also on rt.com
'Different from all other preparation': Khabib talks of 'hard' training ahead of Gaethje clash & first fight since father's death
The destination for October's fight with the 22-2 Gaethje is yet to be announced, but is widely expected to be on 'Fight Island' in Abu Dhabi, where the UFC held a series of cards last month.
It will be the first fight for Khabib since his father and trainer Abdulmanap died at the age of 57 in July from complications stemming from a Covid-19 infection.
Khabib's last bout was also in the UAE, when he submitted Dustin Poirier in their title unifier last September at UFC 242.
You can share this story on social media: