Ex-NBA commissioner David Stern, who led the league for 3 decades & turned it into multi-billion-dollar enterprise, dies at 77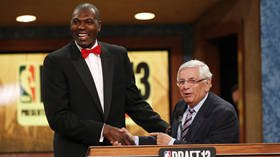 Ex-NBA commissioner David Stern died on Wednesday as a result of a brain hemorrhage he suffered in mid-December, which required emergency surgery, the NBA said in a statement. He was the league's fourth commissioner since 1946.
The longtime NBA head transformed the sports league into a "modern global" industry, helping to bring televised games to over 200 countries in dozens of languages, said current NBA chief Adam Silver.
"Because of David, the NBA is a truly global brand – making him not only one of the greatest sports commissioners of all time but also one of the most influential business leaders of his generation," Silver added.
Even after his 30-year career, which began in 1984, Stern kept active within the NBA and was given the title of "commissioner emeritus." In 2014, he earned a spot in the Naismith Memorial Basketball Hall of Fame for his contributions to the sport.
An outpouring of condolences came in the wake of Stern's death, with NBA champions and other basketball royalty weighing in to mourn the loss, among them 11-time champ Bill Russell.
"Very sad day for basketball," said Scottie Pippen, a hall-of-famer who won six NBA championships with the Chicago Bulls. "We saw David Stern a lot in the 90s and I found him to be kind, thoughtful and almost always the smartest person in the room."
He was an innovator who helped grow our sport into a global game and his impact will never be forgotten. RIP, Commissioner.
Like this story? Share it with a friend!
You can share this story on social media: