International Olympic Committee issues harsh rebuke of Moscow laboratory at center of WADA doping claims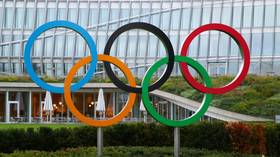 The IOC has hit out 'in the strongest terms' against those responsible for manipulating Moscow laboratory data prior to sending it to the World Anti-Doping Agency (WADA), calling it an 'attack on the credibility of sport'.
A WADA panel recommended on Monday that Russian athletes compete as neutrals during next year's Tokyo Olympics as well as a series of other major sporting events for the next four years, while also campaigning for a ban on Russia hosting international tournaments during that time.
Russia handed over data in January which was aimed at drawing a line through a series of doping controversies in recent years while also presenting a clean slate from which to move forward from past cover-ups.
Also on rt.com
Russia faces 4-year ban from major international sports events after WADA 'recommends' strong sanctions
However, a WADA committee determined that the data was manipulated and didn't include information related to hundreds of positive drug tests as well as casting doubt on the legitimacy of WADA witness, ex-lab director Grigory Rodchenkov.
In a statement released on Tuesday, the International Olympic Committee condemned what they see as deliberate malfeasance and called for sanctions against anyone found to have manipulated data, as well as calling for the delivery of authenticated raw data.
Also on rt.com
'There were only technical issues': Kremlin says Russia & WADA reach agreement on lab data
"The International Olympic Committee condemns in the strongest terms the actions of those responsible for the manipulation of the Moscow laboratory data before it was transferred to the World Anti-Doping Agency (WADA) in January," a statement posted on Olympic.org reads.
"This flagrant manipulation is an attack on the credibility of sport itself and is an insult to the sporting movement worldwide. The IOC will support the toughest sanctions against all those responsible for this manipulation."
The statement also calls for updated and untouched data to be delivered by Russian authorities so that the specter of doping allegations can be finally be lifted, clearing the names of the innocent and punishing those who have bent the rules.
Also on rt.com
Return to Russia: WADA officials set to visit Moscow lab later this week
"The IOC once again requests that the Russian authorities deliver the raw data on which this case is based," they write.
"This is still a matter of huge importance, since the delivery of any fully authenticated raw data will ensure that full justice can finally be done, and that the guilty can be properly punished and the innocent fully protected. In this way, the shadow of suspicion over the new generation of clean Russian athletes can be removed."
They also note that the "sports movement" is not responsible for any manipulation, in particular the Russian Olympic Committee or its members, and implore WADA to issue sanctions to the relevant Russian authorities they deem as responsible, saying that the findings should be referred to the Council of Europe and UNESCO, having regard to the Council of Europe Anti-Doping Convention and the UNESCO International Convention Against Doping in Sport.
You can share this story on social media: