'Come to Russia. We need an analyst who says what he thinks!' Moscow ice hockey club Dynamo offer fired Don Cherry job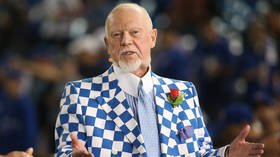 Russian hockey club Dynamo Moscow have offered disgraced Canadian announcer Don Cherry a job as an analyst that "can talk whatever he thinks" after he was fired for making "divisive" comments about immigrants on air.
READ MORE: Canada's identity crisis: Wokeness clashes with WWI remembrance in Don Cherry scandal
The 85-year-old was fired from his role on Sportsnet's highly-rated 'Coach's Corner', a stint he began in 1982, after he made comments that were deemed inappropriate about immigrants' alleged attitudes to wearing poppies ahead of Remembrance Day.
Also on rt.com
Canadian sports commentator Don Cherry in hot water over 'anti-immigrant' poppy comments
Referring to them as "you people", Cherry criticized an apparent lack of respect for the tradition, which prompted an angry backlash and claims of "racism".
But Hockey Club Dynamo Moscow, one of Russia's and the Soviet Union's most successful clubs, made Cherry an offer that seemed to press all of the eccentric host's buttons.
"Hey, Don Cherry. We heard that you were fired. It's not good!," the club tweeted on Tuesday.
"Come to Russia, we need an analyst for Dynamo TV who could talk whatever he thinks. We love old soldiers. And we will make a nice suit! We hope you agree."
Dynamo's tweet should perhaps be taken with a pinch of salt, as it was probably not posted without irony. Cherry has been known for his prolific putdowns of European and Russian NHL players, as social media users were quick to point out with the same sarcastic angle.
After leaving the show, former Boston Bruins star Cherry has since remained unrepentant in his response to the fallout, telling The Toronto Sun: "I know what I said and I meant it. Everybody in Canada should wear a poppy to honor our fallen soldiers."
However, he has expressed some regret over the wording used in the incident, also coneding that he should have used "everybody" instead of "you people".
Cherry said at the time: "You people love — they come here, whatever it is — you love our way of life, you love our milk and honey.
"The least you could pay is a couple of bucks for a poppy or something like that. These guys pay for your way of life that you enjoy in Canada. These guys pay the biggest price."
You can share this story on social media: