Greatest football display ever? Argentinian club use jaw-dropping giant holographic lion to mark return to stadium (VIDEO)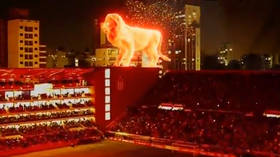 Argentinian football club Estudiantes de La Plata put on a jaw-dropping show to celebrate their return to home stadium after a 14-year absence.
Estudiantes came back to Luis Hirschi Stadium where the club played between 1907 and 2005 before the venue was closed due to safety concerns.
READ MORE: Tifo to end all tifos: Moroccan fans produce insane dragon display for Casablanca derby (VIDEO)
The Argentinian outfit inaugurated their renovated home stadium in style staging an incredible show with a giant flaming CGI lion moving on the roof and onto the pitch in the broadcast shown on TV.
The grandiose performance was arranged last Friday right before Estudiantes' Argentina Superliga clash with Club Atletico Talleres.