'Forever a failure': Conor McGregor mocks Khabib's cousin Abubakar Nurmagomedov after UFC Moscow defeat, then deletes his tweets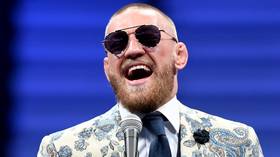 Unsurprisingly, Irish UFC star Conor McGregor needed little encouragement to mock Khabib Nurmagomedov's cousin Abubakar after he fell to a first-round submission defeat on his UFC debut in Moscow, calling him a "failure".
Nurmagomedov took on gritty German and KSW veteran David Zawada in a preliminary card bout at UFC Moscow.
And although he appeared to make a solid start to the contest, it was Zawada whose grappling acumen produced a surprise result as he locked up a triangle armbar, then released the arm and tightened the triangle choke. It left Abubakar trapped and left with no alternative but to tap out a submission.
Also on rt.com
Moscow upset: Khabib consoles devastated cousin Abubakar Nurmagomedov after shock first-round defeat on UFC debut (VIDEO)
But the nature of the tap, which saw Abubakar tap Zawada on the forehead, led to a mocking response on Twitter by McGregor, who gleefully tweeted his response to the fight's conclusion.
"Nurmagotaptap," he tweeted as he launched into a handful of reactionary tweets following the fight.
And, after calling the team "s**tebags", McGregor then went on to mock Abubakar, tweeting: "He tapped his forehead. If you can tap his forehead. You can punch his forehead. He quit. 1 quitter exposed. Abubakar Nurmagotaptap. Forever a failure."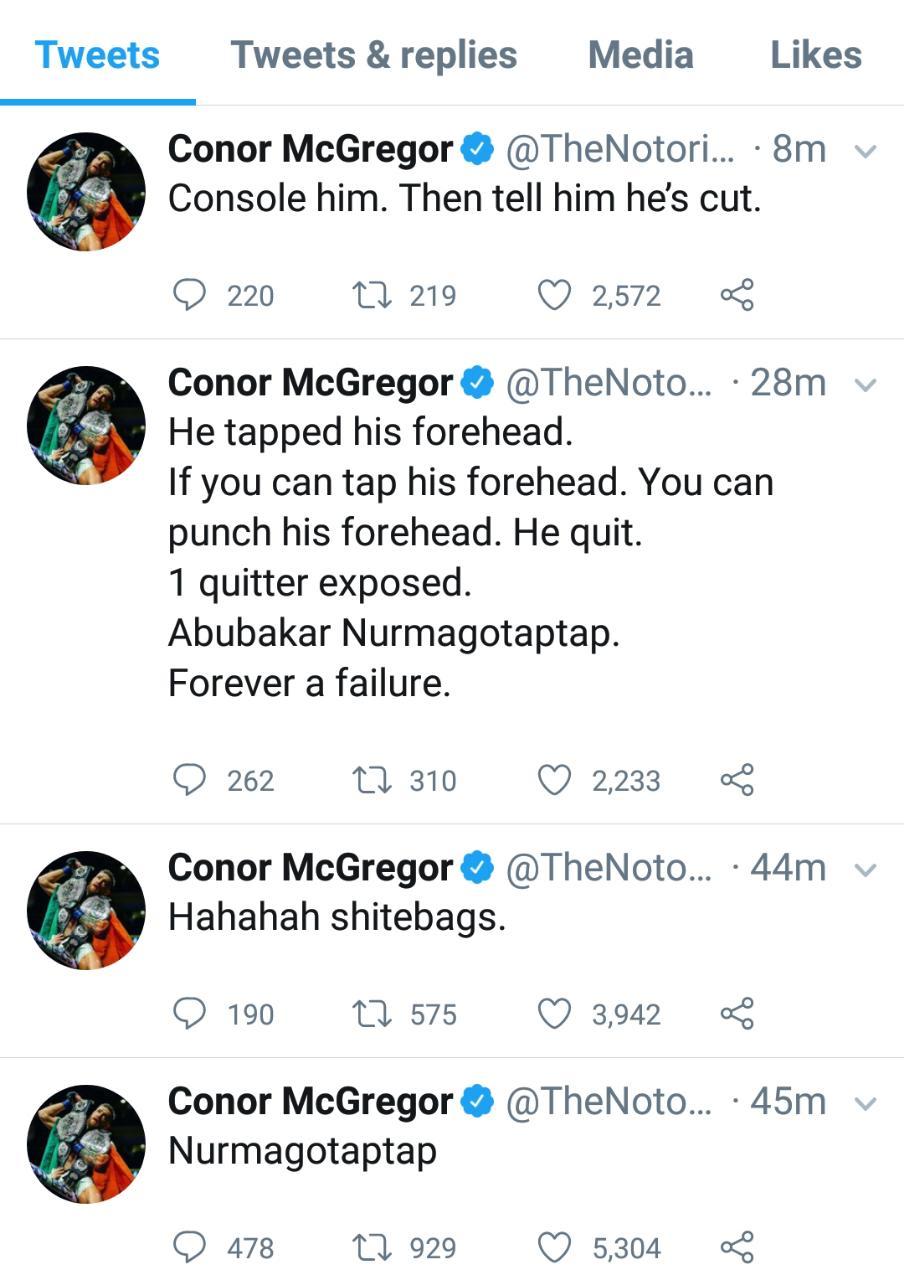 McGregor later deleted his tweets, but not until much of the MMA world saw them and noted them, with some pointing out the hypocrisy of criticizing a fighter for submitting after he fell to defeat in the same manner against Khabib at UFC 229.
Also on rt.com
'I wouldn't go to Dagestan to take a s**t': 6 sizzling responses from Conor McGregor's Moscow press conference Q&A
You can share this story on social media: