'Rest in peace, your work is done': Athletics world reacts to paralympian Marieke Vervoort's death by euthanasia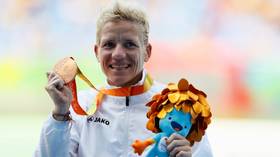 Tributes are pouring in following the death of Belgian paralympian Marieke Vervoort, who chose to end her own life through euthanasia at the age of 40 after battling an incurable degenerative disease.
The death of Vervoort, who won gold and silver medals at the London Paralympics in 2012 as well as two further medals in Rio de Janeiro three years ago, was confirmed via a statement from the Belgian city of Diest.
Also on rt.com
Tragic Patrick Day's death demonstrates the deadly lure of boxing cannot be curtailed
The disease, she told the media in Rio at the time, forced her to live through constant pain which would restrict her to just 10 minutes' sleep some night.
"It's too hard for my body," she said in 2016. "Each training I'm suffering because of pain. Every race I train hard. Training and riding and doing competition are medicine for me. I push so hard – to push literally all my fear and everything away."
Vervoort was a strong advocate of euthanasia and as she considered the option for herself, she remarked upon how it gave her the sense for the first time that her life was in her own hands.
"I'm really scared, but those (euthanasia) papers give me a lot of peace of mind because I know when it's enough for me, I have those papers," she said.
Also on rt.com
Rachel from Friends or Tinder logo? - Why fans are 'swiping left' on the Paris 2024 Olympics emblem
"If I didn't have those papers, I think I'd have done suicide already. I think there will be fewer suicides when every country has the law of euthanasia. I hope everybody sees that this is not murder, but it makes people live longer.
"I feel different about death now than years ago," Vervoort added. "For me I think death is something like they operate on you, you go to sleep and you never wake up. For me it's something peaceful."
You can share this story on social media: