'It's a brutal, cruel sport. May God rest his soul': Tributes pour in for tragic boxer Dadashev
Published time: 23 Jul, 2019 17:51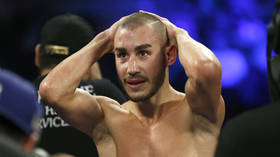 Tributes have flooded in from the boxing world following the tragic death of Russian boxer Maxim Dadashev, who died after suffering a bleed on the brain as the result of an 11th-round TKO loss on Friday.
READ MORE: Russian boxer Dadashev showing 'severe signs of brain damage', in coma after 11th round TKO
Dadashev's trainer Buddy McGirt threw in the towel after the 11th round of his fight with fellow undefeated contender Subriel Matias after the Russian suffered a further round of heavy punishment at the hands of the Puerto Rican.
Also on rt.com
Russian boxer Dadashev, who suffered 'severe brain damage' after TKO loss, dies of his injuries
The 28-year-old appeared unsteady on his legs, leading McGirt to pull his man out, confirming the first loss of his 14-fight career. Upon leaving the ring, Dadashev collapsed and lost conciousness in an ambulance.
He was transported to hospital where he underwent a two-hour operation for a subdural hematoma - a brain bleed - on the right side of his skull and received treatment to reduce swelling.
On Tuesday it was reported he had died from heart failure as a result of his injuries. The boxing world is subsequently in mourning, and poignant messages of remembrance and respect have been made in memory of the fighter known as 'Mad Max'.
Russian Boxing Federation head Umar Kremlev stated after the news broke on Tuesday that the organisation will provide lifetime monetary support to the family of Dadashev following their loss.
"We will make lifelong payments to the family of Dadashev. We will support his family," Kremlev said, TASS reported.
Dadashev's death comes just one day after Moscow celebrated the annual 'International Day of Boxing' on Red Square. Last week, the boxing world was rocked by the news all-time great Pernell Whitaker had been killed in a car accident in his native Virginia.