'Disgraceful': Mairis Briedis lands illegal elbow en route to controversial WBO title win (VIDEO)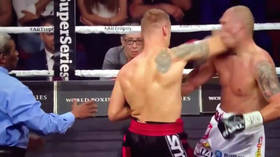 Latvian boxer Mairis Briedis won the WBO cruiserweight title against Krzysztof Glowacki on Saturday in a performance mired in controversy as the referee appeared to miss an illegal elbow shot which dropped his opponent.
Breidis, who was fighting in front of his home support, landed an elbow to the head of Glowacki as he exited from a clinch.
Referee Robert Byrd seemed to miss the illegal shot, and the Polish fighter was knocked down a further two times - the second of which came after the bell. Bredis finished the fight in the third round with a powerful right hand.
Speaking afterwards, Breidis said that his illegal shot was retaliation for a strike Glowacki landed to the back of his head.
"I think the referee didn't do nothing, then I did a little bit of a dirty punch but I'm sorry for how I responded, it's my old Muay Thai style," he said.
READ MORE: 'The English Ali': Tyson Fury dazzles fans with sublime slips of punches against Tom Schwarz (VIDEO)
The controversial fight was the semi-final of the Super Series and ensured his passage to the final bout against against IBF champion Yunier Dorticos, where both the WBO and IBF belts will be up for grabs in the Super Series final - won last year by Oleksandr Usyk.