'He hit him so hard, they're feeling it in Brazil!' Wilder demolishes Breazeale in NY (VIDEO)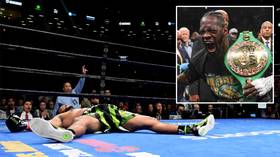 It took just two minutes, 17 seconds for Deontay Wilder to defend his WBC heavyweight championship as he flattened rival Dominic Breazeale with a vicious first-round knockout in Brooklyn, New York.
Wilder headed into the bout after some heated and controversial comments aimed at his opponent, suggesting he was prepared to kill Breazeale in the ring at the Barclays Center.
READ MORE: 'If he dies, he dies': Deontay Wilder channels his inner Ivan Drago ahead of Dominic Breazeale clash
And when the opening bell rang, Wilder came marauding forward like a man who wanted to finish the job early.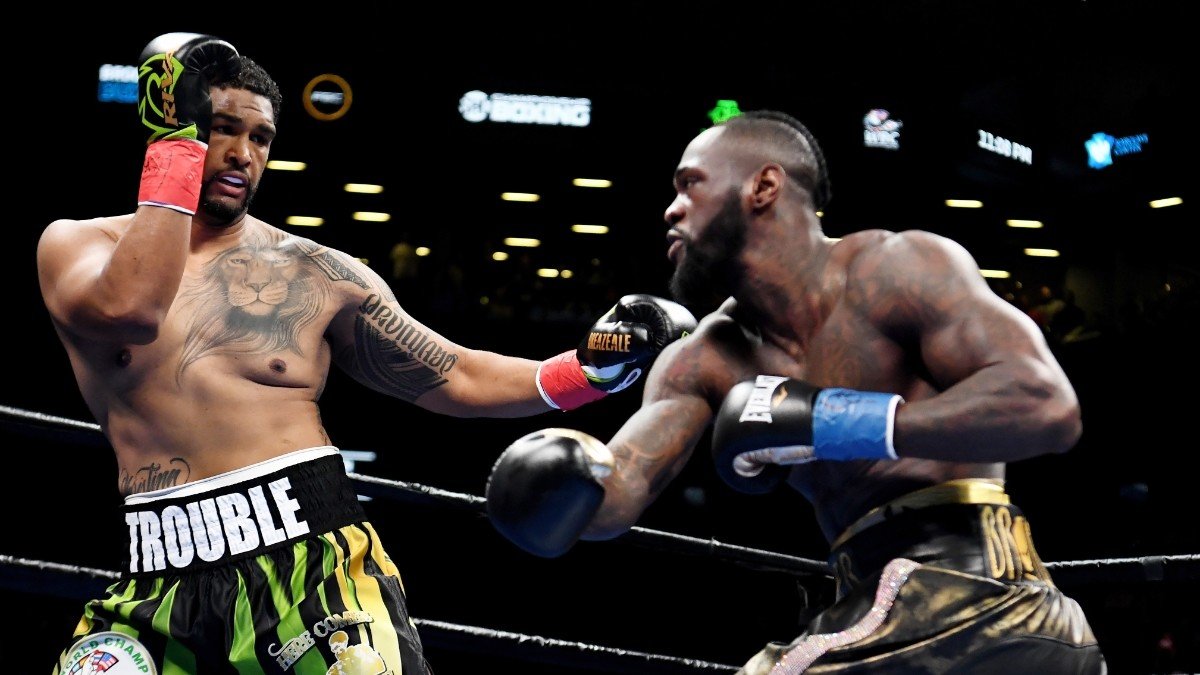 He stunned Breazeale with a stiff right hand and backed him into the corner, but Breazeale came back and clipped the defending champion with a right hand over the top that had him momentarily backing away.
But when the pair re-engaged in the center of the ring, Wilder unleashed a brilliant one-two combination, with the second punch – a colossal right hand – knocking out Breazeale in spectacular fashion.
It prompted Showtime commentator Mauro Ranallo to exclaim: "Wilder hit Breazeale so hard they are feeling it in Brazil! Mama mia!"
After the contest, Wilder told Sky Sports that, while he didn't take back his pre-fight words, he was pleased that his opponent was OK after the knockout.
"I don't regret nothing I said. I won't say nothing I don't mean. But it's one thing to say something and one thing to do it, and I'm glad it didn't happen tonight," he told Sky Sports after the fight.
"My negative energy towards him is cleansed. I feel released... we're gonna squash it, once and for all."
When asked if he will be ringside at Madison Square Garden to watch Anthony Joshua in action against Andy Ruiz Jr. on June 1, Wilder was non-committal but hinted that he would be there.
"I've got a lot of obligations to fulfil. If that date is open for me, you might well see Deontay Wilder there."
Asked if the long-awaited and much-anticipated matchup between the pair would ever happen, Wilder stated his belief that the pair would meet in the ring at some point in the future.
"I think it will happen," he said.
"I believe in all my heart it will happen. This heavyweight division is so lit right now, it's on fire. We've got an obligation to give the fans what they want."
Also on rt.com
Tyson Fury v Deontay Wilder: 5 things we learned from the heavyweight clash of the year
Wilder also told Showtime that he plans on facing Tyson Fury in a world title rematch after their draw last year.
"That fight will happen. The rematch will happen," he said.
"All these fights are in discussion. No doors are closed. All parties are talking."
You can share this story on social media: