'This is a basketball game, not a strip bar!': Fans fume over cheerleaders' raunchy show (VIDEO)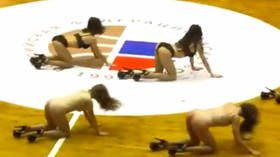 The Russian Basketball Super League final's pregame show has caused uproar after numerous fans attending the match with children accused the organizers of staging an "inappropriate" striptease performance.
Game three of the final series between Spartak St. Petersburg and Samara took place on Sunday, but it wasn't Samara's championship title that was widely discussed after the match, rather Spartak's cheerleaders were the talk of the town in Russia's northern capital.
READ MORE: Sex revolution? New 'striptease' trend replaces classic routines in figure skating (PHOTOS)
Nine dancers wearing skimpy outfits and high heels put on a pre-game show which included strip-tease moves and choreography.
Multiple complaints over the show have appeared on social media with many users expressing regret that they took little kids to the final which, in their opinion, should have had an "18 +" rating.
"They should have mentioned 18+ age category for the final match" a user said.
The show, which was announced as an "elegant choreographic performance," caused a stir among fans who described the show as "filth" and accused the organizers of crossing the line.
"Filth is everywhere! TV, sport, films! How can we bring up a decent generation of kids," one fan fumed.
"This was a real striptease. It's unacceptable for public places, including sports arenas. This is a basketball game, not a strip bar," another added.
"My friend would have liked it, but definitely not my young daughter. I shouldn't have taken her to the game," one more fan wrote.
The game ended 66-59 in favour of Samara with the club taking their second victory in the best-of-three-series to take the national title.
You can share this story on social media: