'It hit a nerve': Trieste half-marathon reverses 'racist' ban on African runners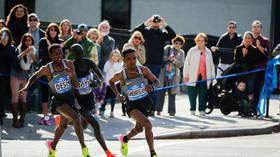 Officials from the annual Trieste half-marathon in Northern Italy have backtracked on a recent decision to not allow runners of African origin compete following a barrage of racism accusations.
Fabio Carini, organizer of the Trieste running festival, announced on Saturday that only athletes from Europe would be invited to take part at the May 5 event, saying that the move was designed to highlight the exploitation of African athletes.
Both the male and female races were won by runners from Burundi in 2018.
"This year we decided to only take European athletes to make a point that measures must be taken to regulate what is a trade in very high-worth African athletes, who are simply exploited," Carini said to La Repubblica, arguing that African runners were being paid less than they deserve.
Also on rt.com
Black runners banned from Estonian marathon
However the move was met with anger Italian Member of the European Parliament Isabella De Monte, who suggested that the move is akin to "cleansing sport".
"The exploitation of athletes is being used as a fig leaf – regarding such questions, there are places and appropriate bodies to turn to," she said. "This is truly absurd: professionals are being prevented from taking part in a competition because they come from Africa."
In a statement referencing the discontent at his decision, Carini announced that African athletes will be invited to compete, saying that: "After launching a provocation that hit a nerve, drawing great attention to a fundamental issue, contrary to what was communicated yesterday, we will also invite African athletes."
The Italian Federation of Athletics has opened an investigation into the matter "to examine the facts and possible violations of its standards and regulations committed by affiliated clubs or licensees".
Also on rt.com
'Even I couldn't stand the smell': Chinese runner defies diarrhea attack to finish half-marathon