Man Utd v Man City: The derby one set of fans might not want to win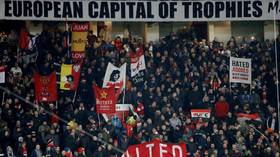 Allegiances will be called into question ahead of Wednesday's crucial Manchester derby as United know that a win against Pep Guardiola's side could well help hand the Premier League title to bitter rivals Liverpool.
In the 29 years since Liverpool last clinched English football's top prize, Manchester United have won the league on no fewer than 13 occasions - all which came under the stewardship of legendary manager Sir Alex Ferguson - expanding the chasm of success which exists between two of English football's most historically successful clubs.
Also on rt.com
'This performance was rancid': Gary Neville explodes after Manchester United thrashed 4-0 at Everton
On Wednesday, though, Ole Gunnar Solksjaer's misfiring United side face their city rivals and they know that a win could well expedite success back to Merseyside, meaning the potentially mind-bending scenario of some Manchester United fans hoping for a Manchester City victory, as well as the frankly bizarre concept of Liverpool fans rooting for their arch-rivals.
A win for City will place them one point ahead of Liverpool, with a better goal difference and just three games remaining, and it appears to be a mathematical quandary which is calling into question the loyalty of some of English footballs most tribal supporters.
"United fans are in a difficult situation obviously," City's England full-back Kyle Walker said. "When I'm out and about or walking my dogs, United fans are coming up to me saying, 'We'd rather City win the league than Liverpool'."
The game, Wednesday's evening kick-off at Old Trafford, should be a relatively easy one to predict on paper.
Guardiola's oil-rich City side have yielded maximum points in the league since a 0-0 draw with Chelsea at Stamford Bridge two months' ago, a distinctly different turn of fortune from that of Solskjaer, whose 'honeymoon period' appears to have devolved into marital mediation.
READ MORE: 'That was a dive AND a penalty': Mohamed Salah earns spot-kick as Liverpool go top at Cardiff
United have lost six of their last eight in all competitions to threaten their hopes of gaining Champions League football next season, though it appears curious that some sections of the Old Trafford faithful would happily mortgage European football in favor of continued heartbreak for Liverpool.
Why this prolonged antipathy between the two clubs? Back in the 1989-90 season, Liverpool claimed their 18th and to date last league title after a spell of sustained dominance in English football which saw them win 10 league titles in just 14 years, very much establishing themselves as the most dominant team in the land.
Also on rt.com
PSG & Man City: Why are Arab petrodollars failing to fuel European success?
United, meanwhile, were undergoing their own drought. A league title hadn't been delivered to Old Trafford since 1967 - the year of Eric Cantona's birth incidentally - meaning that when they did finally get over their hump, it was the end of a 26-year craving for league glory at the expense of the to-that-point giants of English football.
And now, after all these years, it seems Liverpool are on the precipice of returning that particular favor. It will take a brave person to made a definitive prediction as to who will ultimately claim this season's Premier League trophy, but we will know a lot more come Wednesday night.