Mo Salah makes Time's '100 most influential' people list, calls for better treatment of women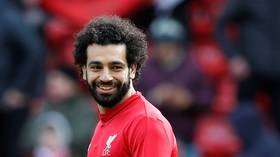 Liverpool and Egypt striker Mohamed Salah is among the cover stars for Time magazine's '100 most influential people' list, as he used the chance to call for the better treatment of women "in my culture and in the Middle East."
Salah, 26, appears in the list alongside fellow sporting personalities such as NBA star LeBron James, tennis ace Naomi Osaka, and middle distance runner Caster Semenya.
But the player nicknamed 'The Egyptian King' is the only person from the world of sport to grace one of the covers of this year's magazine, having been chosen for his entry in the list by TV personality John Oliver.
The British-born comedian is a big Liverpool fan and paid tribute to Salah in his text for the magazine, writing:
"Mo Salah is a better human being than he is a football player. And he's one of the best football players in the world.
"You'd be hard-pressed to find a professional athlete in any sport less affected by their success or status than Mo, which is incredible because I can't imagine the kind of pressure that comes with the intensity of adoration he receives.
"Mo is an iconic figure for Egyptians, Scousers and Muslims the world over, and yet he always comes across as a humble, thoughtful, funny man who isn't taking any of this too seriously.
"As a footballer, he plays with an infectious joy. I've always wondered what it would feel like to be able to play as well as him, and watching his face light up after he does something incredible, you get the reassuring sense that it's exactly as fun as you'd want it to be."
The other five cover personalities for the magazine are pop star Taylor Swift, actor Dwayne 'The Rock' Johnson, actress Sandra Oh, Democrat politician Nancy Pelosi, and journalist Gayle King.
In the photoshoot for the magazine, Salah discusses his pride at what he has achieved in his career, and his role model status for many around the world.
He also isuses a message calling for the better treatment of women from men "in my culture and in the Middle East."
"We need to change the way we treat women in our culture, that has to be, it's not optional," Salah says.
Salah enjoys a huge fanbase on social media, where he has 25 million followers on Instagram and a further 8 million on Twitter.
He is increasingly held up as a Muslim role model, including by Russian MMA star Khabib Nurmagomedov, who last year hailed him as an "icon" for "the ethics and values he spreads every day."
READ MORE: Khabib hails 'humble' Salah as Muslim 'role model'
Salah will be in action on Wednesday night when Liverpool meet Porto in their Champions League quarter-final second leg, where the Reds lead 2-0.
Liverpool are also aiming for glory on the domestic front, where they sit top of the Premier League and are locked in a title battle with Manchester City.
Salah scored a stunning goal at the weekend against former club Chelsea – his 19th in the Premier League this season – to keep Liverpool in the title race.
Also on rt.com
'Making a point to the racists': Salah hits stunner against Chelsea after 'bomber' slurs