Daredevil surfer miraculously rescued between waves after wipeout on Portugal's Nazare coast (VIDEO)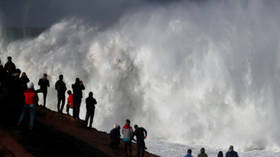 Portuguese big wave surfer Salvador Villas Boas was miraculously rescued by a lifeguard and came out unharmed after being hit and swallowed by a monstrous wave near the fishing village of Nazaré, Portugal.
READ MORE: Watch Australian surfer crash into shark during kite foiling race (VIDEO)
The surfer was attempting to ride the mammoth wave when a bump made him fall off his board before being swallowed. The veteran surfer, whose daring ride could have led to dire consequences, was successfully rescued by lifeguard Ramon Laureano, who dragged him out of the danger zone.
"This rescue in particular was truly one of the most heroic moments I witnessed out there. With more than 20 years of big wave experience, Ramon performed one of the most difficult rescues one can attempt in Nazaré," said Pedro Miranda, a filmmaker who captured the surfer's daredevil attempt.
READ MORE: Surfing tragedy: Brazilian champion killed after lightning strikes water
"To pick up someone directly on the first peak's impact zone between waves is something you don't see everyday here. Ramon was a real hero, no doubt!" he added.
The frightening episode took place in February, but the video taken by Miranda was released last weekend.
You can share this story on social media: