Threat to Russian dominance? Meet 13yo American figure skater Alysa Liu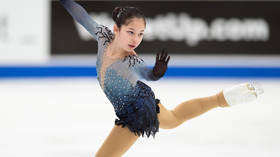 Russia's dominance in women's figure skating has been indisputable since 2015, with the nation cleaning up title after title. But the long-running winning streak could soon be broken with the emergence of US star Alysa Liu.
The 13-year-old talent, who became the youngest US skater to claim the national title, threatens to shatter Russia's dominant positions in the women's field with the technically-gifted skating she has demonstrated at junior level.
READ MORE: Russia's next star? 11yo figure skating prodigy Sofia Akatyeva lands quad
In January, Liu stole the show at the US Figure Skating Championships, producing a mature performance that belied her tender years. She landed two triple axels to edge compatriot Bradie Tennell for the national crown.
Liu became the youngest skater to win the national title, breaking the seemingly unbeatable record set by Tara Lipinski, who triumphed at the national contest at the age of 14.
Lipinski, who worked at the championship as a commentator, praised Liu for her remarkable achievement, expressing no regret that her long-standing record had been broken.
"Records are made to be broken. It is quite an honor that she is the one to do it. What a phenomenal talent," the 1998 Olympic champion said.
Along with extremely complicated triple axels, the newly-crowned US champion is training quadruple jumps which have been performed only by Russian coach Eteri Tutberidze's skaters so far.
READ MORE: Olympic champ Zagitova skated with severe blisters at nationals, photos reveal
The renowned trainer has several skaters on her team who have successfully landed quads at international events, setting a high bar for the competition aiming to fight for podium places at the biggest events.
Liu has gladly accepted the challenge, posting a video of her flawlessly executing a quadruple flip during a training session.
She also had a brilliant attempt at a nicely done combo which included a triple axel and triple toe loop in combination with another triple toe loop and double toe loop.
The US junior, who is not yet eligible to compete at senior starts, has already proven she has the potential to evolve into a top-class skater with ambitions to fight for Olympic medals.