'He's not human!' Vasyl Lomachenko scythes through heavy underdog Anthony Crolla in LA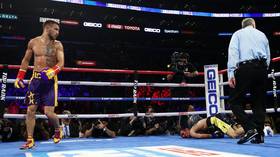 Vasyl Lomachenko has been hailed as the undisputed pound-for-pound king of boxing as he dissected England's Anthony Crolla in Los Angeles on Friday night, knocking out the Brit with a stunning fourth-round combination.
Lomachenko, 31, proved the oddsmakers correct in defense of his WBO and WBA lightweight titles, knocking the 100-1 underdog out with a hard right hook just under a minute in the fourth round.
It was thunderous strike to the Manchester fighter's temple, immediately sending him slumping face first to the canvas as the referee waved off the bout inside the Staples Center.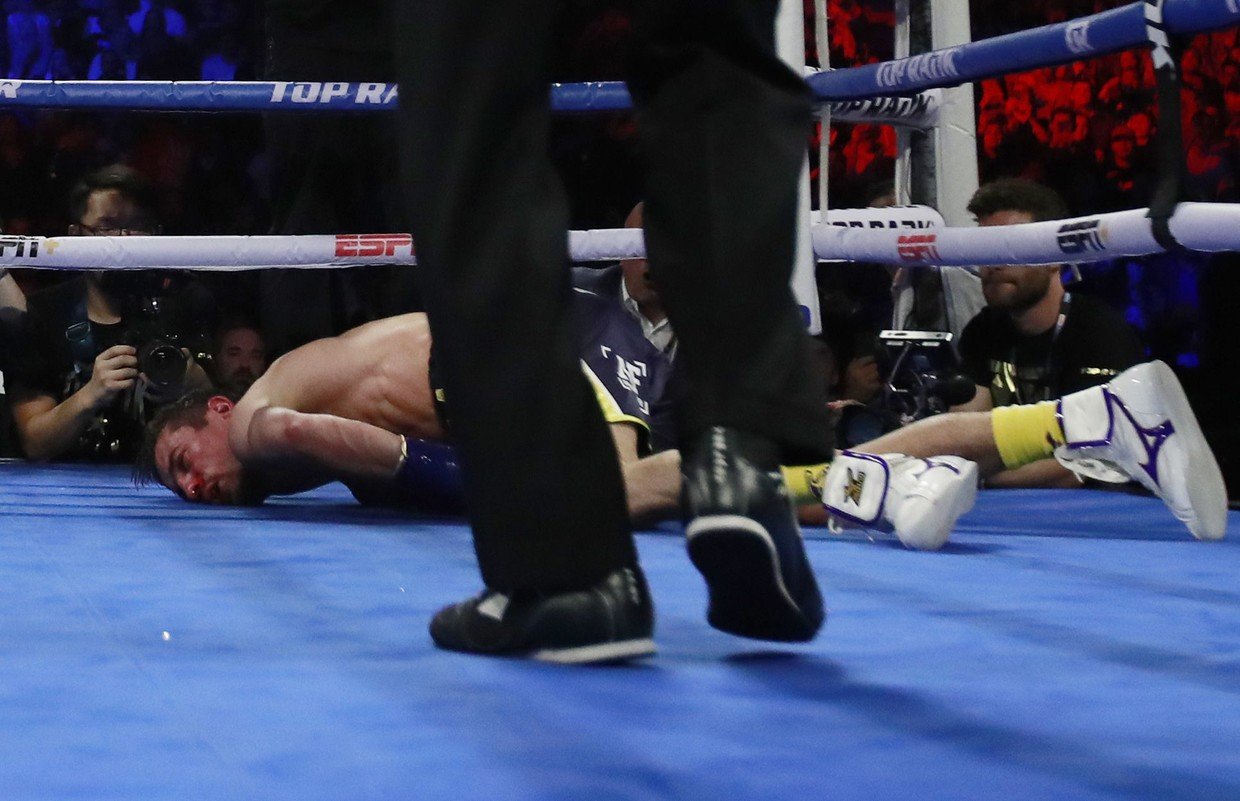 The double Olympic medalist improves to 13-1 in his career, 10 of those wins coming by KO, and called for sterner challenges than that of the overmatched Englishman.
"I want Mikey Garcia. I want to unify titles. That's my goal. I want historic fights," Lomachenko said post-fight.
Crolla, meanwhile, had said in advance of the fight that he was prepared to "shock the world" when he was plugged into the bout as an injury replacement for IBF champion Richard Commey, but in truth it was a poor performance from the the Englishman. He now falls to 34-7-3.
Promoter Eddie Hearn said afterwards that Lomachenko's skill was too much for Crolla.
"Lomachenko was too good for Anthony," he said. "This shot came against the head; you can't not take this opportunity. Losing to Lomachenko is never a disgrace.
"He can have zero regrets because he prepared the best he could, it's just about levels. Who is going to beat Lomachenko?"
The reaction on social media has been similar to that of Hearn, with many fight fans heaping praise on the man considered the world's best boxer.
I've watched every Lomachenko pro fight several times over but that was his best performance to date He's getting betterFootwork, accuracy, spite. Wow. #LomachenkoCrolla#LomaCrolla

— Adam Catterall (@AdamCatterall) April 13, 2019
Embarrassing. You could've picked a random guy from the audience and they'd do more. He barely threw a punch just sat there like a punchbag. Wouldn't count out a fix or crolla is just that bad. Its not that Loma is that good. his opponent was useless. #LomachenkoCrolla

— Dar Two (@spixeltwit1) April 13, 2019
Just a thank to those who've tweeted their well wishes. Honest I'm fine health wise just pride is hurting. Honestly felt in the best shape of my life going into the fight and so gutted to go out like that. An honour to share the ring with @VasylLomachenko who was even better than

— anthony crolla (@ant_crolla) April 13, 2019
than I thought. The knockout was a great shot he told me after it he broke his hand with that punch. He was a gentleman. I'm just gonna have a bit of time out before deciding what's next. I've had a crazy career and walking out in the Staples Centre against many peoples p4p #1

— anthony crolla (@ant_crolla) April 13, 2019
hearing the travelling support is something I'll never forget. I'm gonna have a bit of time out before deciding if there's another night in us or not. Thanks again for all the well wishes I just simply got knocked out off a truly great fighter. No regrets. ❤️

— anthony crolla (@ant_crolla) April 13, 2019
Everybody give the WBA a hand for ranking Crolla #1 as the mandatory challenger! Great sanctioning body. #LomaCrolla

— Bloody Elbow (@BloodyElbow) April 13, 2019
Anthony Crolla knocked out in front of me here by Lomachenko 58 seconds into round four. It was desperately one sided with the Ukrianian master fighter stalking the Mancunian hero. Crolla just not able to match Loma which brought an ugly finish Loma wants Mikey Garcia. So do we. pic.twitter.com/1OvYTwlT49

— Gareth A Davies (@GarethADaviesDT) April 13, 2019
Vasyl Lomachenko is in a different sport to all. Leagues above. Every second you get to watch him you're seeing an all-time great in action. People talk about football fans lucky to be living in the Messi and Ronaldo era. Boxing fans now should be grateful Lomachenko is here now.

— Chris McKenna (@cmckennasport) April 13, 2019
You can share this story on social media: