Selfie-inflicted: Football team's Balotelli-style celebration photo goes badly wrong (VIDEO)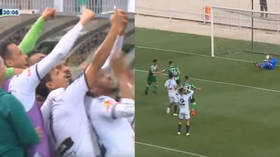 A player for Moroccan side Youssoufia Berrechid attempted to emulate Mario Balotelli's famous 'selfie' goal celebration and upload the picture to Instagram while on the pitch, but things didn't go exactly as planned.
Balotelli's goal for Marseille against St. Etienne in March was followed by one of the best celebrations of the season as the Italian striker took a picture of himself after scoring, uploading it to his Instagram Story while still on the pitch.
It was a move typical of the sometimes controversial former Liverpool and Inter Milan player but, as Mohammed El Fakih found out, it is maybe easier said than done.
After scoring for Youssoufia Berrechid against rivals Mouloudia Oujda, El Fakih and his teammates gathered together to take a photograph and upload it live on the pitch to Instagram.
However, things didn't quite turn out as planned. As the players were gathered together in their own half, the opposition swiftly kicked off and won a penalty seconds later as the Youssoufia Berrechid players were out of position.
What's worse, the Instagram Story didn't even upload correctly so it was all for nothing.
Leuk idee, een selfie maken na een doelpunt. Al loopt dit voor het Marokkaanse Youssoufia Berrechid in dit geval niet zo goed af... 😅 pic.twitter.com/cJcpFsOuwF

— NOS Sport (@NOSsport) April 4, 2019
You can share this story on social media: