Double-KO: Referee slammed over stoppage as Iranian MMA star claims huge knockout win (VIDEO)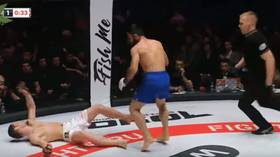 Iranian MMA featherweight Ali 'Young Emperor' Yousefi registered two highlight-reel finishes at Fight Nights Global 92 in Moscow after the referee in his bout failed to stop the fight after the first big knockdown.
Yousefi's performance in his victory against Russia's Magomed-Ali Bakhmudov came with just 32 seconds remaining in the opening round of their featherweight contest at the VTB Arena Dinamo on Saturday night.
But in reality, the registered time of the victory should have been significantly earlier than the official mark of 4:28, after the referee failed to call off the contest with Bakhmudov clearly stricken on the canvas.
MMA fan and noted social media knockout sharer @Jolassanda posted the clip of Yousefi's hugely-impressive performance on Twitter, but rather than a host of replies praising the Iranian's heavy-handed punch power, the responses were aimed at the referee, whose decision to let the fight continue after the first big knockdown came under fire from fans online.
"No mercy from that ref," posted one fan, while another shared a GIF of Dolph Lundgren's Ivan Drago character from Rocky IV with the famous quote from the movie: "If he dies, he dies."
Leaving aside the controversial slowness of the referee's intervention, it was a hugely impressive display from 33-year-old Yousefi, who claimed the eighth victory of his MMA career while handing Bakhmudov his first professional loss.
Also on rt.com
'The god of violence does it again': Justin Gaethje KOs Edson Barboza at UFC Philadelphia
You can share this story on social media: